Mingus runs for 538 yards, pounds Prescott
Marauders rout No. 12 Badgers and set up first place/second place match up with rival Flagstaff
Originally Published: October 7, 2017 2:51 p.m.
PRESCOTT — What a difference a week makes.
A week after its disappointing Homecoming loss, Mingus Union football (3-4, 3-1 Grand Canyon) rebounded to run wild over No. 12 Prescott 38-6 on the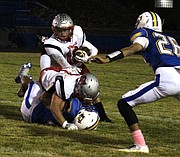 road on Friday night.
"I think they were embarrassed last week, that was as bad as we've played in a long time, I think they took it to heart," said Mingus head coach Bob Young. "They could have tucked tail and they decided that they wanted to work hard and get better and they had a really good week of practice and I was really proud of that. The seniors stepped up and we looked like a whole different team (Friday) night."
A week after previously winless Bradshaw Mountain dominated the line of scrimmage against them, Mingus Union ran for 538 yards against the Badgers (4-3, 2-1). Marauder junior running back Alex Nelson ran for 215 yards and two touchdowns on 24 carries.
4A Grand Canyon standings
Flagstaff 3-0
Mingus Union 3-1
Prescott 2-1
Bradshaw Mountain 2-1
Lee Williams 1-3
Mohave 1-3
Coconino 0-3
"We promised the line that if they did their job, our backs are gonna run hard and all they gotta do is keep their block for not even that long and they did their job and that's what happened," Nelson said.
After giving up a field goal to start the game, the Marauders went on a 38-3 run.
Young said they took a step back in the loss to the Bears and so they challenged the Marauders.
"The young offensive line did a great job and our skill guys blocked," Young said. "We have good running backs, we just gotta be able to block for them and they had a heck of night (Friday) night."
Senior running back Tyler Kelly rushed for 240 yards and two touchdowns on 23 carries. He also caught a 37-yard touchdown pass and accounted for 277 yards of total offense.
"It felt amazing," Kelly said. "It felt so good to finally win and have a good game and play a solid game the whole entire game."
The Marauder defense also shined, holding the Badgers to a season low six points. Prescott had scored 27 or more points in four of their six games before Friday night.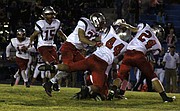 Badger senior Ryan Greene rushed for 233 yards in 16 carries in their 35-14 win over Mohave the week before.
"Our defense set the tone," Young said. "Coach (Neil) Dixon came up with a great game plan because that running back he broke a school record last week and we knew we had to contain him and what coach Dixon and the defensive coaches just came up with a great game plan and the defense just tore it up."
After the loss to Bradshaw Mountain, Mingus Union dropped to 24th in the rankings, from No. 17. The win rights the Marauders' ship before they host Flagstaff on Friday.
"It's a relief off our shoulders," Nelson said. "We really worried coming into this game, so this win kinda lifted a chip off our shoulder and now we got the green team."
Young said they've thought all along the Flagstaff, the Maruaders, Prescott and Bradshaw Mountain were all the same.
Those four teams have combined for three region losses and sit atop the Grand Canyon Region.
"It's whoever plays the best that particular night," Young said. "(Friday) night was our night and Prescott, they're a fine team, they just didn't play their great game and that was sort of like us last week."
Mingus Union is in second place, a half a game ahead of Prescott and Bradshaw Mountain (2-5, 2-1). A win over No. 15 Flagstaff (6-1, 3-0) would cause even more chaos.
"If we can beat them next week then there will be a log jam, so that'll be another battle for us," Young said.
Mingus Union hosts the rivals on Friday night at 7 p.m.
Kelly said the win over Prescott was vital to keep their championship hopes alive.
Week 7 football scores
Camp Verde bye
Paradise Honors 60, Sedona Red Rock 14
Arizona Lutheran 8, Scottsdale Christian 7
Bagdad 76, Valley Lutheran 28
Bradshaw Mountain 49, Coconino 13
Marcos de Niza 31, Cactus Shadows 24
Chandler 55, Perry 27
Kingman Academy 44, Chandler Prep 14
Chino Valley 27, Kingman 20
Deer Valley 45, Lake Havasu 13
Gilbert Christian 44, Bourgade Catholic 21
Higley 56, Casa Grande 7
Show Low 76, Holbrook 6
Mayer 78, San Pasqual 8
Moon Valley 45, Mohave 7
Parker 54, Tonopah Valley 34
Snowflake 28, Payson 7
St. Johns 20, Pima 14
Valley (Sanders) 36, Pinon 8
Odyssey Institute 41, River Valley 8
Round Valley 44, Morenci Jr./Sr. 0
Salome 72, Anthem Prep 14
San Tan Foothills 54, AZ College Prep 0
Sunrise Mountain 54, Cactus 0
Northwest Christian 42, Wickenburg 7
Williams 70, Greyhills Academy 0
Flagstaff 23, Lee Williams 15
"It was huge because we definitely wouldn't win the region if we lost this game," Kelly said. "So we gotta win the rest of our region games if we want a shot at all."
SUBMIT FEEDBACK
Click Below to:
More like this story