Override Election: Yes-Yes override campaign 'serving the same students'
By
Bill Helm
|
BillHelm42
Originally Published: October 8, 2017 6:02 a.m.
COTTONWOOD – Partners in Education – PIE – fights the override battles for schools, because the schools are not allowed to do it for themselves.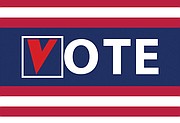 Says Partners in Education treasurer Brandi Bateman, a prime function with the education advocacy group is to raise money to promote the overrides.
And with Arizona slipping lower and lower into the bottom of the nation's rankings for public education funding, Bateman says she wants to "give our kids every opportunity for success that translates into smaller classrooms."
Dropout prevention
According to Arizona Department of Education's AIMS Intervention and Dropout Prevention Program Toolkit, a "number of states" have either implemented or are in the process of implementing class size reduction programs.
"Research and common sense suggest that smaller classes offer teachers the chance to devote more time to each student so as to improve their learning," states the Toolkit, which can be seen at https://www10.ade.az.gov/AIMSDPToolkit/ClassSizeDOE.aspx.
With fewer distractions, more attention and more time to engage in meaningful conversation, the Toolkit explains that "each student receives a larger portion of the educational resources represented by the teacher's instructional time, and consequently, learns more."
From 25 to 49 … 50 … 51 …
In 1990, Arizona was ranked 25 of 51 (including the District of Columbia) in public education funding. Since then, the state has been in a downward spiral toward the bottom, which longtime Verde Valley resident and former Mingus Union board member Andy Groseta says has "put the burden on the local taxpayers."
"If we as a community want to continue to provide good educational opportunities for our students, then we will need to continue to pick up the financial burden, including overrides to operate our public schools," Groseta says.
For much of this year, Groseta has led a group interested in seeing the two school districts merge into one, whether by consolidation or unification.
Though he predicts a monetary savings should the two districts become one, Groseta says "it is a balancing act and always has been" when both districts seek an override at the same time.
Yes-Yes
The campaign is called Yes-Yes because two separate-yet-connected school districts seek continued community support.
Of course the operative phrase is 'continued support.'
"This is not a new tax," says Partners in Education Chairperson Jamie Woodward. "It's a continuation of what the Verde Valley has supported the past 30 years. A yes vote will continue that support."
Since 1993 Cottonwood-Oak Creek voters have supported Maintenance and Operations Overrides, and for Mingus Union voters, it's been since 1985.
Former Mingus Union superintendent and current Saddle Mountain Unified Superintendent Dr. Paul Tighe says he sees benefit to Partners in Education supporting both districts' override efforts "simultaneously with shared marketing, signs, mailings, etc."
"And voters can receive information simultaneously for both districts, rather than having one during one election and then the other during a separate year," Dr. Tighe says.
Most importantly, says Woodward, the two districts are "serving the same students."
"When I think of the override, and investing in our community, I don't think of it as a political thing," Woodward says. "Whatever you put forth comes back into our community. We create a community that people want to live in."
Concurrent overrides – good or bad?
Lending support to children above and beyond the traditional tax structure, Mingus Union High School District's voters have supported Maintenance and Operations Override for the past 32 years.
Since 1993, Cottonwood-Oak Creek School District's voters have also said yes to overrides.
Come Nov. 7, both Mingus Union and Cottonwood Oak Creek school districts will ask their voters to continue with their commitment to the community's children, says Jamie Woodward, chairperson for Partners in Education.
Critically important
In fact, Woodward says that it's "critically important" that both districts seek the same thing at the same time.
"We see the needs as being very similar, and it creates additional collaboration," Woodward says. "So it's definitely important that they go out together."
Both Mingus Union and Cottonwood-Oak Creek school districts are "serving the same students," says Partners in Education treasurer Brandi Bateman.
"They start at Cottonwood-Oak Creek, they end up at Mingus," according to Bateman, who also says that with both districts going for overrides at the same time, "we want to be a unified front for our kids."
Two sides to every story
Though logic dictates that there are both pros and cons inherent to the two districts concurrently seeking an extension to overrides, one former Mingus Union superintendent says he's "not sure if it is good or bad."
Overrides "have already have both in place and have for many years," says former Mingus Union Superintendent Dr. Paul Tighe, now superintendent at Saddle Mountain Unified School District.
"They are seeking renewal at the same time, which can be advantageous, especially when held in off-year elections since it will reduce the per ballot expense to the districts when the elections are concurrent – since there is considerable overlap in voter base," Dr. Tighe said. 
Success rates
In 2014 when Dr. Tighe was at Mingus Union, voters approved a bond election for Cottonwood Oak Creek, but did not pass the concurrent capital override request for Mingus Union. 
Says Dr. Tighe, "both mechanisms serve similar needs," meaning "capital items versus the current M&O override requests."
 "Capital overrides have the lowest success rates across the states and bonds have the highest," Dr. Tighe says. "There are many reasons why the outcomes were as they were, but most of it is speculation."
Override ballots to be mailed Oct. 16; deadline to register to vote is Oct. 10
On Nov. 7, voters will decide whether they want to extend for seven years both Mingus Union High School District's override and Cottonwood-Oak Creek's override another seven years.
Voting yes to a Maintenance and Operations Override allows a district to exceed the Revenue Control Limit by as much as 15 percent.
Both Mingus Union High School District's override and Cottonwood-Oak Creek's override are for 10 percent.
To continue the 10 percent overrides, the average homeowner would pay $5.25 per month (COCSD) and $2.75 per month (MUHSD) on an assessed home value of $132,350, according to an Override Joint Factual Presentation by Cottonwood-Oak Creek Superintendent Steve King and Mingus Union Superintendent Dr. Penny Hargrove.
The presentation also states that the overrides provide $1,048,771 each year to Cottonwood-Oak Creek and $675,866 to Mingus Union and is used for smaller class sizes, student intervention programs, alternative education programs, athletic programs, electives, including music and physical education, nursing and counseling services, and technology and technology education.
Eligible voters must be registered by Oct. 10 to vote in the Nov. 7 election. As this is a mail-only election, ballots will be mailed to voters by Oct. 16.
Voters should mail their ballots no later than Nov. 4, to ensure they reach their destination in a timely manner, said Jamie Woodward, chairperson for Partners in Education.
-- Follow Bill Helm on Twitter @BillHelm42
More like this story
SUBMIT FEEDBACK
Click Below to: