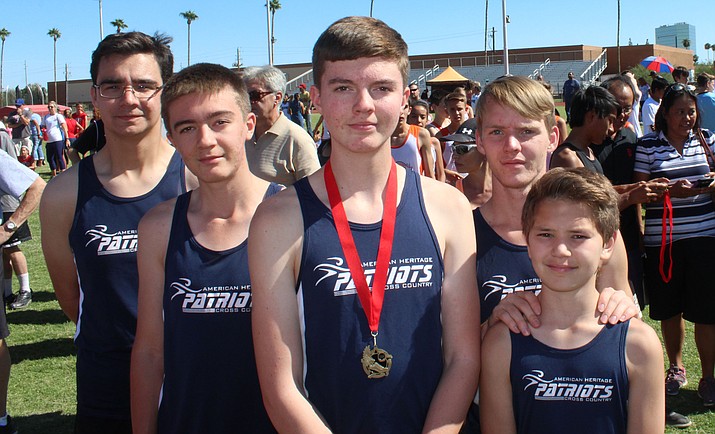 Originally Published: October 12, 2017 2:08 p.m.
American Heritage Cross Country had a record-breaking weekend of racing. The annual Mesa Thunderbird Cross Country Classic was hosted by Mesa Community College. It featured runners from local college teams as well as runners from over two dozen middle school and high school teams in the Canyon Athletic Association (CAA).
The course at the college was fast. High school teams ran a 5K course across flat, athletic fields. The cooler morning temperatures combined with this flat racing course set a template for a day of personal records.
When the starting gun fired, 127 young men and 60 young women began battling for position. The early leader in the race was Brandon Wynns from BASIS Phoenix. At the 1 mile mark, Wynns had an impressive 8 second lead over the rest of the field. Trenton Stafford, from American Heritage Academy, held his pace. By the 2 mile mark, Stafford closed that 8 second gap and caught up to Wynns. As the runners disappeared around the back of the bleachers and out of sight from spectators, Stafford pulled ahead of Wynns and began to increase his lead.
Coming around the final turn, Stafford was the clear front runner, entering the finishing stretch alone, a full 26 seconds ahead of the second and third place finishers. Stafford said, "I knew there were college coaches at the race and I wanted them to see me finish strong." Stafford finished the race with a new personal record of 17:39. He aspires to earn a college scholarship for both academics and athletics.
"The Canyon Athletic Association has given our athletes the opportunity to be seen and taken seriously in the athletic community," commented Coach Mark Stafford. "It was inspiring for our students to see excellent runners like Harry Mullenga from Central Arizona College run just before our team took the field." (Harry Mullenga ran the college 8K in a lightning fast 23:42.)
Every athlete running for American Heritage Academy got a "PR" or personal record for the 2017 CAA season at last Saturday's race:
Ira Thompson, 12th grade, finished with a 20:53
Nathan Stafford, 9th grade, finished with a 21:28
Zack Reed, a 12th grade student competing in his very first cross country competition finished with a 23:51.
Andy Hayes, a 7th grader running on the high school team, held his own with a 24:26 and finished ahead of 44 other high school aged runners.
"I'm really pleased with AHA's performance this last weekend," coach Stafford added. "Our runners are working hard, improving every week and finishing strong."
American Heritage Academy is a public charter school located in Cottonwood. They were founded on the belief that they are "Building Tomorrow's Heroes Today."

"Our sports program and especially the cross country program contribute to that mission," commented Coach Stafford. "Cross country builds mental toughness and physical endurance that strengthens all areas of leadership."
Learn more about how AHA is educating tomorrow's heroes by visiting their website: www.americanheritageacademy.org.