Hippie Emporium closing

Originally Published: October 14, 2017 2:07 p.m.
Owner Marisa Gladen said she has the Hippie Emporium in Old Town Cottonwood up for sale or rent and is closing.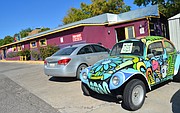 Gladen, who bought the Hippie Emporium two years ago, is selling everything in the store in a going-out-business sale.
The 1960s nostalgic store sells such items as tie-dyed T-shirts, crystals, rock posters, jewelry, dresses, vinyl records, Grateful Dead purses, Buddhas, incense, sandals, and tapestries.
The store owner said there are no plans for the future of the building and no buyer for the 12-year-old business in the current location.
She said a lot of people expressed to her that they were upset that the store was closing, but she said she was not making any money.
However, she said there may be someone still interested in reopening it as a hippie shop, but she could not find anyone to do it.
Gladen said she is trying to sell the business, but would rent it in the meantime.
The property on SR 89A, on the very northwest end of Old Town toward Clarkdale, and includes the building with the Hippie Emporium business, an apartment complex, and another smaller rental space for another business.
She expects the sale at her store to go on for a couple more weeks. Right now the sale is at 20 percent, but that percentage will rise as the time to close nears, she said. 
More like this story
SUBMIT FEEDBACK
Click Below to: