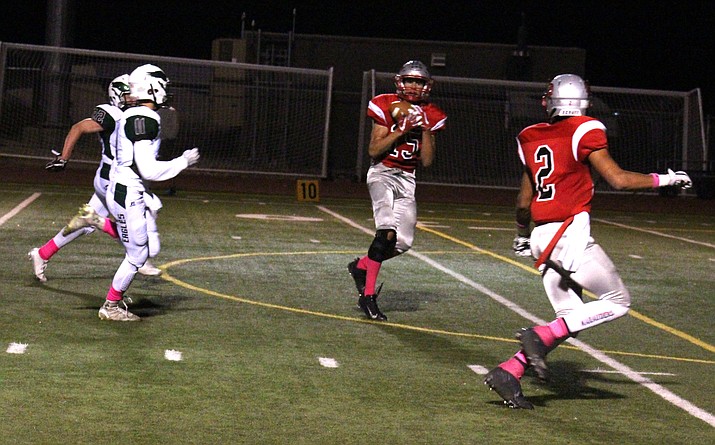 Originally Published: October 14, 2017 12:12 p.m.
Mingus Union took command of the Grand Canyon Region with a rout of rival Flagstaff, who had been unbeaten in region play.
The No. 22 Marauders (4-4, 4-1 Grand Canyon) beat No. 12 Flagstaff 41-10 on Friday to move into first place in the region.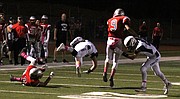 "I think Flagstaff's got a good team, we just came out and took it to them," said Mingus Union head coach Bob Young. "Defense set the tone and offense was able to do what they do."
Since starting the season 0-3, the Marauders have won four of their last five.
According to the Daily Sun, Mingus Union outscored the Eagles 44-12 in the previous 11 meetings before Friday's 41-10 game.
"It's huge," said Mingus senior Justin Link. "I mean every year we come, doesn't matter who's on our schedule, Flag is always circled, we always want to beat Flag, that's our thing: beat Flag. It's been our rival for forever and coming out and putting the beating on them that we did, it means a lot."
Mingus Union has beaten their rivals four times in a row and in 11 of that past 12 seasons.
Young said the 2017 win ranks among the Marauders' best against the Eagles.
"This is probably the first time I think since 2005 that they've really been ranked this high," Young said. "It used to be, like I said, every year we were all chasing Flagstaff so it's been since these seniors were probably in kindergarten the last time Flag had this good of a team. It's always better when Flagstaff has a good football team, it's always better for Northern Arizona because it just makes everybody have to work harder."
In the first quarter Mingus Union jumped out to a 14-0 lead after a 16-yard touchdown run by junior Alex Nelson and a 41-yard scoring pass to junior Chaz Taylor.
Then in the second quarter senior Martin Soria scored on a 17-yard run. In the third, the Marauders added 14 more off a Nelson 68-yard touchdown rush and a 24-yard running score by senior Tyler Kelly.
"It feels so much better just to win and have fun on the field," Kelly said. "It seems like everybody is just bonding a lot better and having more fun playing football."
Flagstaff got on the board when they returned a fumble by Kelly 25 yards for a touchdown. Right after Young told his team to run out the clock, Kelly tried to pitch the ball to Nelson, causing the fumble.
"Coach Young was pissed, I already knew it," Kelly said. "Yeah I'm still pissed I did that but I gotta pick up my team, so that was huge."
Kelly redeemed himself on the next play after the Eagle extra point kick when he returned the kick off 98 yards for a touchdown.
"Yeah I was hoping they would kick it to me," Kelly said. "Martin (Soria) the other returner told me 'let's get this' there was a perfect hole. They blocked it prefect, so it was off to the races."
Mingus junior quarterback Antoine Zabala was 6-for-11 for 131 yards and a touchdown and no interceptions.
Nelson led the Maruaders in rushing with 131 yards on 13 carries, while Kelly ran for 117 yards on 16 rushes.
Taylor caught three balls for 94 yards. Junior Kendrew Streck had four sacks.
"I think our front seven on defense because these guys have been able to run the ball on everybody and the defensive line and linebackers pretty much stuffed the run all night long," Young said when asked about the most valuable players. "I think they set the tone for the whole game."
Flagstaff's scores came on the fumble and a long field goal when the Marauder reserves were in.
"We were giving it our all," said Link, a linebacker. "Me and Kendrew on the outside, I mean we did our jobs every night, our job was to go get the quarterback and if you watch the film, we were on him every play, so it was really nice. Everyone did their jobs, stepped up, focused on what they needed to do and instead of trying to be the big man, we just flat came out and became that big defense that we needed to be."
Mingus' win created a logjam atop the Grand Canyon Region. Flagstaff, Bradshaw Mountain and Prescott are tied for second with 3-1 records. Flagstaff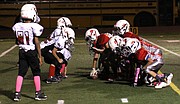 travels to No. 19 Prescott (5-3, 3-1) next week and then hosts No. 35 Coconino (1-7, 0-5).
No. 27 Bradshaw Mountain (3-5, 3-1) hosts No. 30 Mohave (2-5, 1-3) an then faces Prescott.
Next week Mingus Union plays at Coconino. Their last home game is against No. 2 Sunrise Mountain (7-1, 3-0 West Valley).
Young said the Marauders aren't worrying about the other teams and playoff scenarios and that while Coconino is winless in region play, Bradshaw Mountain was 0-5 when they routed Mingus Union.
"We can't worry about them," Young said. "The last time we played a winless Bradshaw team you saw what happened, so we're not going to going to talk about 'winless.' Everybody's good, but we're getting better, you can see the last two weeks, everybody's health and we're starting to get on the same page and we're feeding off our defense and we're able to run the ball, so we're just getting better. It's better late than never at the end of the season."
More like this story