'Music and the Market' event looks to grow after successful summer
Cottonwood's market offers entertainment, Camp Verde's focuses on farmers

Originally Published: October 14, 2017 6:09 p.m.
The moon was half-full the night local music-legend Llory McDonald closed out the last Music and the Market concert of 2017.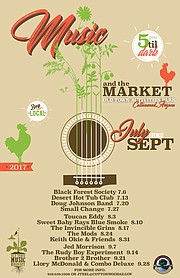 People were dancing to a cover version Joe Cocker's "You Can Leave Your Hat On" while a long line of customers waited for hot dogs as the steam rose in the warm twilight during the evening of Sept. 28.
This was not Martha Stewart's version of a farmers market and that may be the way Cottonwood wants it.
The Cottonwood Music and the Market was rebranded by the Cottonwood Parks & Recreation this season to promote its musical entertainment and wide-range of vendors. It used to be called the Farmers Market and Jamboree.
The turnout of the community for the musical lineup was a large success, but the number of vendors, especially farmers, were down this season because of competition from other markets and poor weather, say organizers.
The city hopes next year they can add to their musical success.
"It's a market, it's not just a farmer's market. It's a community gathering place. If you have something you would like to sell, come and sell it," explained Cottonwood Councilmember Tosca Henry.
The staff did a lot of work in rebranding the event. Everyone called it a farmers market, but people were asking why the city was calling it a farmer's market if there were only one or two farmers, said Henry.
The talent and range of the musicians were really appealing to our community, she said. This strengthens what the Old Town Music Market is: a community gathering place. The Old Town Music and Market should be the place to be on Thursday for our community, Henry added.
Besides farmers, the Cottonwood market has had jewelers, crafts, food, artists, hats, canes, hula hoops, balloons, and children's activities.
Henry said that Cottonwood has a difficult time competing for farmers with some of the larger farmers' markets in the area. This factor drove part of the rebranding, she added.
This summer, the Cottonwood Music and the Market was held on Thursdays, the Sedona Farmers Market was held on Fridays, the Camp Verde Farmers Market was held on Saturdays, the Cornville Farmers Market was held on Mondays, the Chino Valley Farmers Market was held on Thursdays and the Rimrock Farmers Market was held on Fridays.
Free for Farmers in Cottonwood
"The farmers, the produce side of things has always been a challenge for us," explained Hezekiah Allen, Cottonwood's Recreation Services Supervisor.
So Allen said in recent years they would focus on the music side of things and still have the farmers' component in the market.
Jack Teel, Recreation Department Coordinator, said there are 52 spots for vendors and in years past they have filled up with vendors. More than 100 vendors have signed up this year, but only about a dozen have been showing up this year, he said,
Teel said the weather hurt farmers' crops this year. Also, last year, seven of the 13 markets were rained out, so farmers questioned Cottonwood as a viable market this year, Teel added. In addition, Chino Valley has a popular farmer's market on Thursday night, Teel said.
"We put music in the forefront of the branding – concert, music and market – because we kept branding it as a farmer's market and our farmers' turnout wouldn't be as strong some days as it was on other days," Allen said.
Staff is reaching out trying to develop partnerships with private and non-profit to get more produce at the market, Allen said.
"A lot of our farmers do well at the farmers market," Allen said. Farmers are not charged to sell at the Cottonwood market as an incentive to come, he said.
Vendors, selling any items other any agriculture such as t-shirts; jewelry; crafts; and hot dogs, are charged a five dollar per day spot fee and a one-time per season fee of five dollars, Teel said.
The market is primarily paid for by local sponsors and there is no cost for the city other than staff time, Allen said. Sponsors pay for the bands.
Market is Good for This Farmer
Jamie Moffett, who was the only farmer selling a variety of produce at the last Music and Market event on Sept. 28, said the Cottonwood market actually works out for him because he is the only one there. He said it would be more difficult for him if there was more competition, he said.
Moffett's grows his produce close to the farmers market at a roadside stand on SR 89A in Bridgeport across from Denny's. Moffett said there weren't enough customers to support many farmers at the Cottonwood market. A lot of competition wouldn't be worth it.
A lot of people come to listen to the music, he said, but not as many come to buy a whole lot of produce, he pointed out.
Moffett thought more farmers and vendors would come if the market was promoted as a farmer's market, but first they have to get the farmers, he pointed out.
Camp Verde Focuses on Farmers
Janie Davie, of the Verde Valley Farmers Market, said the Camp Verde market on Saturday morning focuses on produce and farmers. She said there are sometimes as many as 20 farmers with produce at the Camp Verde market which is held in a pleasant open-air structure with a roof called the Town Ramada, she said.
Most of the farmers are small farmers, some have CFAs and others are back-home gardeners that bring their crops to the farmers market which is 14 years old now.
Asked why she is not at the Cottonwood Farmers market with her produce stand, Davie said the Camp Verde Market focuses on being a farmers market and is primarily farmers.
Davie said they have a few crafts and one jeweler. They also have music but it is "background music." The musicians play for tips. Davie said the atmosphere is different in Cottonwood with the musical entertainment, the crafts, and the large variety of vendors.
It's not specifically a farmer's market, she said. That's what the Camp Verde market is all about, she added.
The last Camp Verde market will be Oct. 21 this season. This is none on Oct. 14
Marshall Miglin of Sunnyside Farm was also at the Camp Verde market this year, but has been at the Cottonwood market for the last four years.
He said he skipped Cottonwood this year because the weather this year has been tough on his crops. He said he just didn't have enough produce to do both the Camp Verde and Cottonwood markets.
Miglin thought the Cottonwood market could be a good one for farmers and has found success there in the past.
Sedona Market in the "Top Ten"
Katrin Themlitrz, the director of the Sedona Farmers Market, said their market has grown to be extremely successful over the past five years.
"We had a very successful season," she said. "A lot of people come out for it."
The Sedona Market just finished its Summer Season at Tlaquepaque and will begin its winter season on Sundays at noon to 4 p.m. on Oct.22 in the Wells Fargo parking lot.
Themlitrz said the Sedona Market has been voted one of the ten best farmers' market in the state of Arizona and she credits this to focusing her vendors on produce and food.
Themlitrz said she carefully branded the Sedona Market around being a producers market. There are no crafts or jewelry vendors at the Sedona farmers market.
"We just have farm and food so it's just a celebration of the growers and the people that grow it."
Themlitrz said their limited number of booth spaces are sold out and there is a waiting list, so she does not have room for different kinds of vendors anyway.
The Cottonwood market is successful in bringing the community together with their great music line-up, but they may want to purchase food to enjoy the music with, but they may not want be there to purchase produce.
"There are lacking growers in this area," Themlitrz said. "So they need to attend venues that attract buyers."
Survey the Vendors
Henry said it would not take much to add to the success of the music entertainment. Maybe four or five farmers could be convinced to come to Cottonwood.
Henry said she would like to continue to market the event and raise attendance. She wants to continue to promote the market to farmers and local gardeners and that it's free for them.
The market had two great sponsors this year, but Henry would like to get even more sponsors and also volunteers to take some of the burden off city staff hours.
Henry said another problem is the early darkness. She would like to get a sponsor to help pay to light the park. Splitting the market into a spring and fall season is also an option, she added.
Teel said he has begun putting together a vendor survey for feedback, ideas and data to grow for next year.
"We are open to all feedback." He said adding that they will see what the directive from the city council is.
"I think we definitely had a strong turnout of people, I think that our attendance has been very strong this year, now it's just building that vendor base again," Allen said.
More like this story
SUBMIT FEEDBACK
Click Below to: