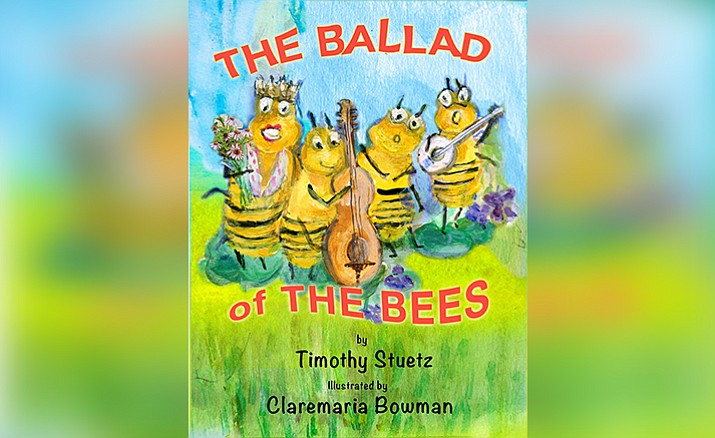 ---
---
Saturday, October 21st through Sunday, Oct. 22nd everyone is invited for the book signing and first release of "The Ballad of the Bees," an illustrated book and audio CD. Author and master storyteller Timothy Stuetz will be signing his new book from 9am to 5pm at the Health, Healing and Happiness Soul Connection Event located at the The Collective Sedona.
Rhyming joyously, "The Ballad of The Bees" is a colorfully illustrated adventure into the lives of our busy little bee friends. It poetically weaves fun facts about the world's beloved bees with values and living in harmony. It tells how their selfless efforts provide the delicious treats of sweet honey, yummy fruits and healthy veggies we all love. Suitable for all ages, the beautifully illustrated book, audio book and songs are fun, educational and entertaining. The heartfelt synthesis of harmonic frequencies within the vocals and melodies can significantly enhance creativity, general wellbeing and energy levels.
The "Audio Ballad" combines the talents of Sedona singer and voice over artist Shondra Jepperson along with music by composer Michael Kollowitz. The Bee-lightful "bee voices" and "buzzing" created by these two talents stimulates the infinite imaginations and Bee-rilliant minds of children in the most powerful way possible—allowing them to create their own mental pictures as they listen! Chiming in with their own busy, buzzy bee voices or singing and dancing to the bouncy, inspiring melody of "The Bee Bee Jubilee Songs" entertains and educates children, leaving them Bee-lissfully abuzz with jubilant admiration for our productive little pals—the Bee-utiful Bees.
Stuetz is known for his popular book "Bliss Beary Bear's Fairy Tales of the Heart—for Children of All Ages" published by Balboa Press and has written over 50 other Fairy Tales available as EBooks. He is a certified children's self-esteem coach and has created entertaining educational programs and books for the State of California, Boys & Girls Clubs and many public foundations. He developed the "Power Animal Frolics" DVD and designed "The Magical Miracle of You," a self-esteem program for children. Timothy is an ordained minister; Master of Reiki, Qigong, T'ai Chi, and other Ancient Arts & Sacred Sciences; and also coaches people through births, deaths, and life's daily challenges. He continues as the Chief Executive Officer of the non-profit "Transformations" which he founded in 1986 with the purpose of inspiring everyone to achieve and share the full potential of their bodies, minds, hearts and souls while co creating a loving, prosperous, healthy and harmonious world for everyone.
For more information on Timothy Stuetz and all of his books visit http://healthykidshappyfamilies.com.