Looking back at Fort Verde Days … by the numbers
9,450-plus miles, 267 Dutch oven meals, 18 old-time photos
By
Bill Helm
|
BillHelm42
Originally Published: October 17, 2017 3:05 p.m.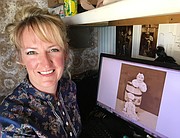 CAMP VERDE – Half-way between Sydney and Melbourne, in Australia, is a rural town called Albury. From there it is about 9,500 miles as the Kangaroo hops to Camp Verde.
Saturday, during the 60th Fort Verde Days parade, Albury resident Terry Dwyer talked about his home land, both similarities and differences, as he shot photographs of Camp Verdeans young and old – and many in between – as he enjoyed the rural community's annual celebration for the first time.
Dwyer plans to spend about six weeks in the Verde Valley. Friday, the 73-year-old saw his first American football game, Camp Verde High School's homecoming match against Parker.
Not too many travelled more than 9,000 miles to be at the Fort Verde Days parade. Each year, the annual Fort Verde Days event brings locals and out-of-towners together like no other Camp Verde activity.
The following are a few of the many stories – and a few of the interesting numbers – which resulted from the weekend of fun:
267
More than 10 volunteers – 11 to be exact – helped serve 267 meals cooked in Dutch ovens at Fort Verde Days. Says Bill Stafford, who along with Bob Tener cooks all the meals each year, the majority of the meals were served to volunteers and historical reenactors at the Cook Shack between the Ramada and Fort Verde State Historic Park.
"Some of the public made donations to eat," says Stafford of the $6 gratuity the public was able to pay for lunch on either Saturday or Sunday.
Breakfasts, lunches and dinners were cooked in the ovens, means that include barbecued pork, red chili enchiladas, lasagna, breakfast casserole, peach cobbler and apple cobbler.
3,293
With a fee free weekend at Fort Verde, 3,293 guests saw historical reenactments including flag raising and flag lowering ceremonies, presentation of the Colonel's Daughter, cannon demonstrations, 1880s-period church service, military fashion show, even 1860s-era baseball.
Of the 3,293 guests, 2,720 were adults, meaning 573 children visited the state historic park, says assistant manager Brian Lane, who also pitches on the Fort Verde Excelsiors vintage base ball team.
Members of the Excelsiors and their opponents, the Prescott Champions, totaled 23. Which surprisingly enough, was the total score of the game, as the Excelsiors won 13-10.
With four Fort Verde staffers and 10 Fort Verde volunteers, 248 man-hours (and woman-hours) were spent preparing for and running the event.
And that number doesn't include the reenactors, all 22 of them – and they spent 352 total hours reenacting.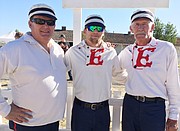 18
Pistols and Petticoats is an old-time photo studio in the neighboring community of McGuireville. Run by proprietor Candy Hammond on the site of Candy's Creekside Cottage, Pistols and Petticoats had 18 photo shoots at Fort Verde Days weekend, including 12 on Saturday.
One of Saturday's happy dozen was a baby in her first-ever photo shoot.
"The most rewarding thing was shooting people's pictures and giving them a fun experience," Hammond says. "It's great to see them so excited about their picture!"
47
Maybe folks don't go to an event such as Fort Verde Days planning to get an eye exam. But Dr. Jack Huston of Camp Verde Eye Care performed 47 wellness retina scans, including Rae Martin of Camp Verde.
Dr. Huston likens a retina scan to "doing an MRI on the retina."
500 + 640
Cooking about 500 pancakes and 640 sausages for the collective, Camp Verde Kiwanis volunteer Alice Sordahl made sure that the expected 250-plus early risers could get their share of pigs in a blanket Saturday morning.
One might think there'd be leftovers with all that food. But Another Camp Verde Kiwanis volunteer said yes – actually no.
"We usually run out," says Gerry Laurito, longtime librarian at the Camp Verde Community Library. "Maybe there's an extra pancake here or there."
43
Parade entries at this year's Fort Verde Days parade totaled 43, which included local businesses, churches, schools, historical entities and the Colonel's Daughter, who rode in the parade on her horse with the other Colonel's Daughter contestants and their escorts, members of the Camp Verde Cavalry.
Long time Fort Verde Park Manager Sheila Stubler was honored as this year's parade grand marshal.
?
The amount of hours spent by volunteers connected with Camp Verde Promotions and the Camp Verde Business Alliance, frankly, is immeasurable.
-- Follow Bill Helm on Twitter @BillHelm42
More like this story
SUBMIT FEEDBACK
Click Below to: