Clarkdale Library reopens for its 90th birthday

By
Halie Chavez
|
@haliephoto
Originally Published: October 21, 2017 3:30 p.m.
CLARKDALE – Over three months ago the Clarkdale Memorial Library closed its doors. Thursday, residents of Clarkdale celebrated the resurrection of the library.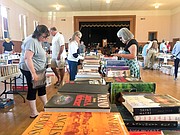 Approximately 100 people attended the Clarkdale Memorial Library opening ceremony at the Clarkdale Clubhouse Oct. 19. Thousands of donated books encompassed all genres, from gardening to mystery-thrillers.
The Clarkdale Council voted to approve an intergovernmental agreement between Yavapai County Free Library District and the town to provide library services. Under the agreement, the district will operate the library and the town will provide the facility rent free.
The ceremony was hosted by Corey Christians, the director of the Yavapai County Free Library District. Mayor Doug Von Gausig thanked Christians among several others involved with reopening the library.
"Thank you to the Friends of the Clarkdale Memorial Library, who have been working tirelessly since they erupted out of almost nowhere and organized a community around the library and brought so many people together," said Mayor Doug Von Gausig.
The Friends of Clarkdale Library formed before the vote to close the library – after, members of the group knocked on doors and collected donations.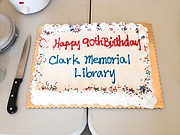 Von Gausig explained that the May 23 unanimous vote to suspend operations of the library was not an easy decision for the council to make. The vote ceased library services June 30.
"It was one of the most difficult things that this town council has ever done. It's never good, never easy to take a key service like a library and stop offering that to your citizens," Von Gausig said. "It brought a lot of people out with a lot of really great ideas – the numbers just weren't there for the town council and the library at the time."
Vice Mayor Richard Dehnert, introduced by Von Gausig as a "tireless champion of the library," spoke after the mayor.
"To me, voting to close the library was the most painful decision I have faced in nine years on the town council, but the reality of the situation left no choice," said Dehnert. "You can imagine my delight when the Yavapai County Free Library District presented their offer to help reopen this vital community asset."
Christians, Von Gausig and Dehnert all thanked Gayle Mabery, the town manager, for her role in revitalizing the library.
As part of the Yavapai County Free Library District, members of the Clarkdale Library can have books delivered from 40 libraries within Yavapai County. Beaver Creek Library is also in the catalog.
With a positive turnout at the opening ceremony, Clarkdale Memorial Library begins its second life.
More like this story
SUBMIT FEEDBACK
Click Below to: