No. 19 Mingus Union football beat No. 36 Coconino 56-0
Originally Published: October 21, 2017 1:18 p.m.
FLAGSTAFF – For months it's been Mingus Union football's goal and on Friday the Marauders' 20th region/section championship became a reality.
The No. 19 Marauders (5-4, 5-1 Grand Canyon) beat No. 36 Coconino 56-0 (1-8, 0-5 Grand Canyon) on the road to clinch at least a share of the Grand Canyon Region championship.
Since their camp in California in July, the Marauders have eyed a 20th title and after the game they chanted "20."
"It's amazing," said Mingus junior Kendrew Streck. "It's history so we can always look back on this day."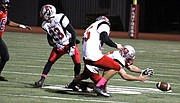 Since they finished region play with a 5-1 record, the Marauders will finish atop the region. The other teams have one more Grand Canyon game left.
"It's special, I'm speechless," said Mingus senior Martin Soria. "We made history (Friday) and I'm really proud of that, I'm proud of my teammates, we worked hard to get to this point. At first we started slow in the season but we told each other 'we got each other's back and we're gonna come and win this region championship.'"
The Marauders have come a long way since they started the season 0-3 and 2-4 after losing to a previously winless Bradshaw Mountain team. During the losing streak, Mingus head coach Bob Young said they're not a very good football team.
"We've improved, we've really improved," Young said. "After that Bradshaw game, I think we looked at ourselves in the mirror and decided that we wanted to be better on the line of scrimmage and you've seen the last three weeks, the offense and defense just dominated the line of scrimmage."
Mingus Union started a little slow on Friday, at least on the scoreboard, before finishing the first half with 36 points, 28 in the second quarter.
Senior Tyler Kelly rushed for 139 yards on 11 carries, junior Alex Nelson for 125 yards on nine rushes and Soria ran for 67 yards on three carries. Kelly scored three touchdowns, Soria three and Nelson one.
"We didn't let up (laughs)," Young said. "I mean right out of the gate we had two touchdowns called back, first series and we just kept playing the game Tyler Kelly dominated the first half and we didn't need him to run after that, so he had a great first half. Alex Nelson didn't get a lot of carries but every time he ran the ball he had big plays. Martin didn't have a lot of carries but when he ran the ball he had big plays. So we had a lot of big plays on offense."
Junior quarterback Antoine Zabala was 5-for-5 for 95 yards and touchdown and had a quarterback rating of 177.1.
For the third week in a row the Marauders' defense was stout. They haven't given up a touchdown since September.
"Our defense has been the heart of our team," Streck said. "We really started getting along and became a brotherhood and we just have the mentality that no one is scoring on us, so we've just been stepping it up."
With their work in the region done, the Marauders will become big Prescott fans. No. 20 Prescott (6-3, 4-1) and No. 24 Bradshaw Mountain (4-5, 4-1) are tied for second in the region and they play on Friday at BM.
On Friday Prescott beat No. 16 Flagstaff (6-3, 3-2) 22-12 to eliminate the Eagles from the Grand Canyon title race. Bradshaw Mountain beat No. 30 Mohave (2-7, 1-4) 35-0.
If Bradshaw Mountain beats Prescott then they will finish tied with Mingus Union for the region championship but since they beat the Marauders 45-16, they have the tie breaker and will get the region's automatic bid to the tournament.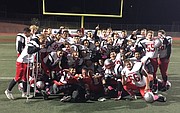 If Prescott wins, they will finish tied with Marauders atop the region but Mingus Union has the tie break over the Badgers, who they beat 38-6.
"It's our own fault, we should've started out stronger," Streck said. "It would be nice if we go to the playoffs, play more football."
Mingus Union's last game of the season is at home against No. 2 Sunrise Mountain, who beat the Marauders twice last year, on Friday at 7 p.m. They beat Cactus, who defeated Mingus Union, by 54 points.
Young thinks they can do better than they did against No. 4 Higley, a 58-6 loss in August.
"Hopefully we'll be better than we were against Higley," Young said. "They thumped us twice last year pretty good. We got a lot of guys that played in that game, so hopefully we give them a little better game than last year."
More like this story
SUBMIT FEEDBACK
Click Below to: