Camp Verde boys soccer season ends with PKs
Originally Published: October 26, 2017 3:49 p.m.
A short-handed Camp Verde High boys soccer took Show Low to the limits in the state quarterfinals but lost in penalty kicks.
On Wednesday night at home, No. 2 Camp Verde (15-4-3) lost 5-3 in the shootout after tying No. 6 Show Low 1-1.
The Cowboys drew with the Cougars after 100 minutes despite playing with out four starters.
"I thought it was a great game, it ebbed and flowed," said Camp Verde head coach David Miller. "We had opportunities to score and they had opportunities to score I couldn't be prouder of the boys that we had."
The Cowboys were missing a midfielder and two defenders but most notably all-state senior goalkeeper Preston Maynard, who was serving his suspension from the red card that he got last week against Chino Valley.
"Nick Daniels stepped in, he used to do some goalie for us a couple years ago and he did a fantastic job," Miller said. "He stopped some big plays and it was an unfortunate goal that he had and it was just one of those things I couldn't ask any more from him and I'm just really proud of his effort."
CV junior Joseph Jones said the red card carried over to this game because Maynard would have saved a couple of Show Low's kicks from the mark in the shoot out.
"He's been with us for the whole season, he's never missed a game and he's an amazing goalie, so we were kinda playing defensive psychologically just with out him being back there," said CV senior Wesley Loveall.
In the shoot out, all five Cougars scored, meaning only four Cowboys got to shoot.
Loveall scored the first, sophomore Manuel Interiano missed, senior Nate Schultz scored and so did Jones.
"Manny's probably going to take it hard but everyone misses, I missed one over there," Loveall said.
Show Low moves on to the semifinals on Friday and will face No. 2 Blue Ridge, who beat No. 7 Desert Christian 11-0. Camp Verde tied Blue Ridge 1-1 in late September.
Show Low scored first at Camp Verde, in the 18th minute, but in the 24th minute, Loveall found the equalizer, converting a penalty kick.
Camp Verde outshot the Cougars 27-19. Daniels had five saves.
With out two starting defenders, Camp Verde turned to freshmen.
"The freshmen stepped up big (Wednesday) night," Loveall
said. "We had a freshmen defense and they played their hearts out."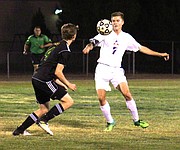 Jones said he was proud of his team.
"It was one of our hardest games because we were missing four of our varsity starters and I mean we still played our hearts out but in the end we still lost," Jones said.
Despite losing 11 starters from last year, Camp Verde made it to the final eight in the state and earned the No. 3 seed.
"I think we had our ups and downs," Jones said. "At the beginning we started off pretty great, we were scoring a lot and then went down and kinda started going back up with the PCD game and then we lost against Chino 7-1 with that red card."
Miller said right after the game that he already had three or four players ask him when off season training starts. After taking November off, the Cowboys will get back at it.
Miller said it will be hard to replace seniors like Schultz and Maynard but he thinks the future is bright for the young Cowboys.
"It's tough to replace the seniors," Miller said. "Last year we dropped 11 and we thought it was tough but I knew we had six strong ones coming back but now we'll drop these six and we're down to three seniors next year. So unless some kids move in or something we'll have a real young team and it'll be a different dynamic. We'll be excited, it's exciting to see how the young men grow every year."
More like this story
SUBMIT FEEDBACK
Click Below to: