Commentary: Mingus football looks to secure playoff spot

Originally Published: October 26, 2017 4:03 p.m.
Things are rather complicated for Mingus Union football's playoff hopes but they could control their own destiny.
The Marauders (5-4, 5-1 Grand Canyon) host No. 2 Sunrise Mountain (8-1, 4-0 West Valley) on Friday night at 7 p.m., presenting a golden opportunity. After moving up to No. 16 in the latest rankings, if Mingus Union upsets the Mustangs, then they could very well make it into the 4A state tournament regardless of what happens in the rest of the Grand Canyon Region.
The 16-team tournament is mostly filled by the rankings but there are eight automatic bids.
AIA football selection show
azpreps365.com
9:15 a.m. - 2A
9:30 a.m. - 3A
10 a.m. - 4A
10:15 a.m. - 5A
10:30 a.m. - 6A
Most region champions (or projected region champs) are in the top 16 of course, like Skyline (No. 1 Saguaro), West Valley (No. 2 Sunrise Mountain), Kino (No. 3 Salpointe Catholic) and Desert Sky (No. 4 Higley).
However, there's also "the other guys." At No. 12, Pueblo (7-2, 3-0) is solidly in the top 16 if they hold on to the Gila Region. However, if they fall this week to No. 39 Amphitheater (2-7, 2-1) then the Panthers shockingly take the region because they would finish with a 3-1 Gila record and win the tiebreaker over Pueblo because they have the head to head victory.
Then with the Grand Canyon region, since No. 24 Bradshaw Mountain (4-5, 4-1) has the tie breaker over Mingus Union, if they beat No. 15 Prescott (6-3, 4-1) this week, then they go to the big dance; more on that later.
Next comes the Southwest Region, which will be won by either No. 17 Buckeye Union, (7-3, 3-0) or No. 18 Estrella Foothills (6-3, 2-1).
Finally there's the region that's as bad as Mingus Avenue, the Black Canyon Region. Only one team there has more than three wins: No. 25 Apache Junction (5-4, 4-0).
Automatic bids are good, they stop the playoffs from just being Phoenix teams, but maybe there should be a limit. It's probably too far when the 39th ranked team (out of 43) has a chance to play in the postseason.
Maybe require all playoff teams be ranked in the top 24 so we see less blowouts in the tournament.
Anyway, what that all means for Mingus Union is that, despite being in the top 16, the Marauders have work to do to get into the playoffs. They would need to up No. 13 or 12 to make it in if they don't win the region.
Right now they have 2.1551 power points and No. 13 Greenway has 3.2256. Perhaps beating No. 2 Sunrise Mountain, which has 14.9223 power points could move Mingus up into the top 13.
Even before playing the Mustangs, Mingus Union's average opponent rating is 1.2926, much higher than Greenway's -0.5570.
The other, more preferable way for the Marauders to get in is with the Grand Canyon's automatic bid. If Prescott can beat their rival Bradshaw Mountain, then the Marauders win the tiebreaker over the Badgers since they beat them.
That would also mean there would be only two or three (three if Pueblo falls) bid stealers taking spots away from the top 16. That could potentially push Prescott into the playoffs despite losing the GCR's automatic bid to Mingus Union.
That seems like the region's best result, two teams in and both that have winning records.
Of course the most ideal option for Mingus Union is to beat Sunrise Mountain and then move away from playing teams like them, Saguaro, Salpointe or Higley in the first round of the state tournament. Saguaro has won four state titles in a row, Sunrise Mountain blew out Mingus twice last year, Salpointe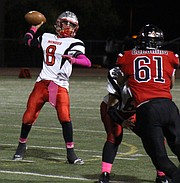 has some of the best players in the state and Higley blew out the Marauders in 2017 and 2016.
Beat Sunrise Mountain so you don't have to play them in back-to-back weeks in back-to-back seasons basically.
The Marauders' postseasons chances can be complicated but they also can be summed up by two things, just win baby and be big Prescott fans.
More like this story
SUBMIT FEEDBACK
Click Below to: