East Prairie Lane's problem: Littering

Originally Published: October 26, 2017 2:09 p.m.
The Problem
East Prairie Lane is being covered in litter after a sign was posted reading: "Your Litter Lifter Has Moved. Good Luck." Prairie Lane is a half-mile road, just south of Western Drive connected to SR 260. The road is covered with trash, mainly fast-food bags, cups, ash tray dumps, plastic bags, and even a tray of rice from a buffet.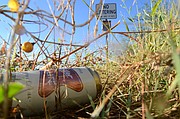 Officials Say
The Yavapai County Solid Waste Division said that East Prairie Lane is a right-of-way through the Prescott National Forest and that the county would send a crew to clean up any large trash problems. For litter, the county has an Adopt-A-Road Program for any county roads which volunteers can get trash bags. The bags are then picked up by the county road crews.

The Solution
The first solution would be for people to stop throwing their trash out their cars and trucks. But for litter, Yavapai County Supervisor Randy Garrison said the best thing to do is for citizens to volunteer. Garrison said that he and his family are involved in picking up trash on a road near their home. For large trash problems, call the Yavapai County Solid Waste Division, Public Works.
More like this story
SUBMIT FEEDBACK
Click Below to: