10 patients assessed after I-17 wrecks
Second accident near Sedona exit involved '7-8 vehicles'
Originally Published: October 30, 2017 4:44 p.m.
SEDONA – Two different collisions on I-17 near the SR 179 Sedona exit brought traffic to a standstill Monday afternoon. The second accident resulted in numerous injuries, with four patients being transported to Flagstaff Medical Center for serious injuries.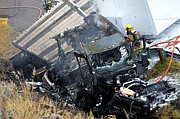 Around 12:06 p.m., Copper Canyon Fire and Medical Authority was dispatched to I-17 at milepost 297.5 southbound, just south of the Sedona exit, for a report of a tractor trailer that had jack-knifed and rolled onto its side which blocked both lanes of traffic.
As response crews approached the scene, it was evident that the cab of the truck was on fire, according to a news release from CCFMA. The driver was able to exit the vehicle without injury, said Fire Chief Terry Keller.
As the crews from CCFMA, Sedona Fire District, and Verde Valley Fire District began extinguishment of the tractor fire, a secondary accident at milepost 297.5, just north of the Sedona exit, was reported.
"This accident involved seven to eight vehicles, and resulted in numerous injuries," stated the release.
The Copper Canyon engine company remained on the scene of the fire at the first accident. The engine companies from Sedona Fire District and Verde Valley Fire District, and the Copper Canyon Battalion Chief relocated to the scene of the secondary accident.
"This accident appeared to be caused by a tractor trailer that was unable to slow down in time and struck several vehicles that were stopped due to the first accident," said Fire Chief Keller.
A total of ten patients were assessed, and seven were transported with five ambulances from CCFMA, VVFD, SFD, Verde Valley Ambulance, and Pinewood Fire District.
A total of four patients were transported to Flagstaff with more serious injuries, while the other three went to Verde Valley Medical Center, according to the release.
Fire Chief Keller said there were no fatalities.
It was reported that the resulting traffic jam extended up the grade nearly to the Stoneman Lake Road exit before the Department of Public Safety and Arizona Department of Transportation were able to open one lane of traffic for southbound travel.
"Copper Canyon Fire and Medical wants to remind motorists to drive safely as we enter into this holiday season. Speed and driver distraction often leads to serious accidents," said CCFMA.
"When in heavy traffic, slow down and give yourself a cushion in front of you to enable you to stop in the event you come across the unexpected. In wet or snowy weather, allow for an even larger cushion of safety."
Drive safely out there, advised Fire Chief Keller.
SUBMIT FEEDBACK
Click Below to:
More like this story