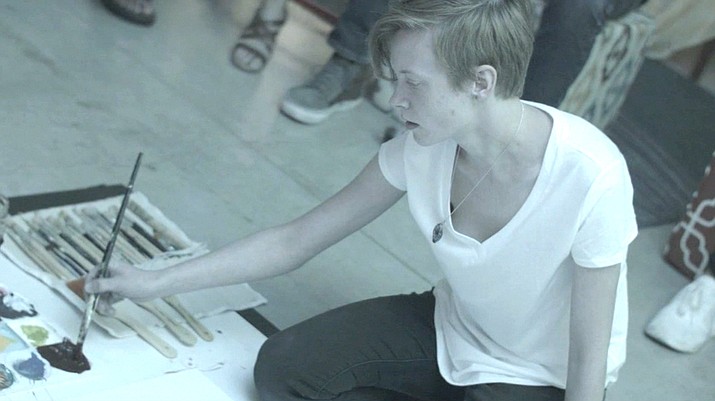 ---
---
On Sunday 5th of November at 5pm something unique is happening at the Hub. Emily Rankin - Live Paint, Sketching-  and Meason Wiley - Live Electronics, Sound, Coding, Circuits - brings 'Verstehen' to Sedona from Texas, via Sante Fe. Experience live art, electronics and sound in creation as you watch.
Taken from the German, "literally 'understanding.' noun: "(SOCIOLOGY) An empathic understanding of human behavior", this performance series explores various approaches to sonic/visual improvisation, focusing on methods of conversation between two artists of different mediums. 
In the spring of 2017, artist/painter Emily Rankin and multimedia artist/technologist Meason Wiley began a collaboration centered around live painting and sound art.  They were interested in creating a unique performance experience that was both interactive and improvisational - one that explored the idea of a true "conversation" between artists of two different mediums. 
They developed a method for communicating during a performance through sonic and visual notation, which gave both the ability to alter the direction of the work on the fly by adjusting the sound, shifting the color, or by changing the brush stroke. 
Almost improvisational, the sound of specific performance may be generated through the use of analog sensors, which can detect position of an object on the canvas, as well as track how hard or soft the object is pressing.  Additionally, the use of camera-tracking/blob detection of the painter's motion, color choices, or position of brush on the canvas can be used to manipulate, change, and even generate sound.
Through these means Emily can control, adapt, and even generate sound while she paints, a method of communication based on Emily's chromesthesia, the unique ability to see sound as specific colors, textures, and shapes.
If You Go ...
What: Verstehen: An interactive performance for Live Painting, Electronics + Sound
When: Sunday November 5th 5-7pm
Where: Sedona Hub, 525B Posse Grounds Road
How much: $6 at the door