Camp Verde man running for money for Jerome Humane Society
By
Bill Helm
|
BillHelm42
Originally Published: October 31, 2017 3:09 p.m.
VERDE VALLEY – Maybe he'll only climb 159 feet – and maybe he'll only descend 154 feet.
But towing a children's trailer weighted down with 200 pounds of plate weights, Cedric Nye is raising money for the Jerome Humane Society. Because to him, making the world a better place for animals is a weighty issue.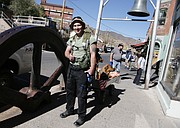 As long as he can remember, Nye has had a soft spot in his heart for animals. Raised in a less than loving environment, Nye said last year that he could relate to how abused and neglected animals might feel.
A year ago, Nye raised $820 for the Verde Valley Humane Society through a similar run near his Camp Verde home. Saturday beginning at 9 a.m., Nye will circle what he calls a "perilous .66-mile loop" through Jerome.
"It's up and down," 75 feet here, 40 feet there," said Nye. "It's going to be an intense run."
He trains with his two dogs, Luke and Ginny. Though for Jango's Jerome Run for the Jerome Humane Society, the plate weights will create additional resistance as he runs "as many laps as I can."
Nye said that all donations will go directly to the Jerome Humane Society, and that donations can be made to Nye through this event's Facebook page: https://www.facebook.com/events/175795742982995, or directly to the Jerome Humane Society.
As a bonus, Nye will take periodic rest breaks throughout the day to bend steel spikes for extra donations.
Because Nye will shoot video of the entire event and will carry an iPad running a tracking app so he can show proof of distance.
Nye's route can be found at http://my.viewranger.com/route/details/MTUyNzczMQ==.
-- Follow Bill Helm on Twitter @BillHelm42
More like this story
SUBMIT FEEDBACK
Click Below to: