Town Manager talks Marshal Gardner at Coffee with a Cop
By
Bill Helm
|
BillHelm42
Originally Published: October 31, 2017 3:22 p.m.
CAMP VERDE – Russ Martin may not be a police officer. But at Monday's Coffee with a Cop, the Camp Verde Marshal's Office did solicit help from its Town Manager to field questions about the status of Marshal Nancy Gardner, who was placed on administrative leave on Oct. 23.
"You do your best to do it clean and let people do their jobs," said Martin, as nearly 20 people attended the meeting held on the final Monday of each month at Thanks a Latte. "The group doing the investigation is doing it quickly. I want answers as quickly as I can get them."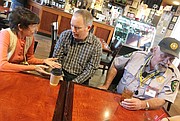 Clean investigation
Despite the public's expressed desire for details pertaining to the investigation of the Town's Marshal, Martin said that "if I told you, it wouldn't be a clean investigation."
Martin also said he had no comment as to the name of the investigator, or how much the investigation would cost the Town of Camp Verde.
"I'm sorry that this is all I can say," Martin said. "But this is a great opportunity to engage with your police. Scout's honor, I'll get you what you need to know as soon as I can."
Though Martin wasn't able to commit to when the investigation would be completed, he also said that "by the end of this week I hope to have something in front of me, so I can have the weekend to think about that."
Once the investigation is finished, Martin acknowledged that "most if not all would be public record."
In her absence
In Marshal Gardner's absence, Commander Brian Armstrong is leading the Marshal's Office. Formerly a lieutenant with the Arizona Department of Transportation, Armstrong, whose first day with CVMO was June 26, has become a "resource for answers," said Sgt. Laura Robinson, who joined Commander Armstrong at the Monday meeting.
"I respect what he does and I know what he's doing," Sgt. Robinson said. "We're really happy with him here."
Talks start, talks continue
The purpose of Coffee with a Cop is to allow Camp Verde residents to share ideas, ask questions and solicit feedback from their local law enforcement agency. Then, the Marshal's Office has the opportunity to look into the discussion items.
Folks asked questions pertaining to the medical marijuana grow facility on SR 260, about homelessness, noise pollution, drug use, the annual Halloween Spooktacular, rebel flags, and the lack of fire hydrants in Verde Lakes.
Animal control officer sought
Commander Armstrong also spoke about the Marshal's Office's search for an animal control officer. As he confirmed a $12.84 starting wage, Camp Verdean Suzy Burnside said it "seems awfully low."
"Especially for a position that demands that amount of time," Burnside said.
Though Armstrong did not disagree – or agree – with Burnside, he said that the Marshal's Office is "trying to focus on younger folks starting out their careers, or on the other end as people are ending their careers."
VIPs Volunteer in Policing Officer Tim Wiggle said that the Marshal's Office had cleared "a couple more VIPs."
"But we're always looking for more people to volunteer.
From 8 a.m. until 9 a.m. the fourth Monday of each month, the Camp Verde Marshal's Office holds Coffee with a Cop at Thanks a Latte, located at 348 S. Main St. in Camp Verde.
The Marshal's Office encourages people to bring their questions, concerns and ideas, and to allow the department's deputies an opportunity to further investigate the many concerns which cannot be answered within the scope of a single meeting.
-- Follow Bill Helm on Twitter @BillHelm42
More like this story
SUBMIT FEEDBACK
Click Below to: