McDonald Bros. to construct O'Reilly sewer line
Could take three weeks to complete, project manager says
By
Bill Helm
|
BillHelm42
Originally Published: September 2, 2017 12:41 p.m.
CAMP VERDE – In November 2016, workers finished the build on the new O'Reilly Auto Parts on Finnie Flat Road in Camp Verde.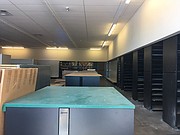 In a couple of weeks, McDonald Bros. Construction will begin to do the building's sewer work, according to Linda Harkness, project estimator and project manager for McDonald Bros.
On Aug. 24, McDonald Bros. "finally received an agreeable contract and it was executed," Harkness said. "They [O'Reilly] like to think carefully before doing things."
According to Harkness, "all the contract work" was done through Chris Evans, O'Reilly's construction supervisor.
Several attempts to reach Evans for comment have been unanswered.
McDonald Bros. low bidder
In January, the Town of Camp Verde told O'Reilly Auto Enterprises, LLC "what it needed to do about sewer hookup and what they needed to do," according to Public Works Deputy Director Troy O'Dell.
"We told them from the start we didn't want the store sitting there empty," O'Dell said.
According to Harkness, the Town of Camp Verde sent out sewer plans for bidding on May 3. McDonald Bros. quoted the project and received word from O'Reilly on May 31 that they were "low bidder."
The Town of Camp Verde, according to O'Dell, "has been proactive of doing what O'Reilly's has needed."
Which includes sending signed easements on July 24, both Harkness and O'Dell said. The easements, according to O'Dell, are in the Town of Camp Verde's name.
Town of Camp Verde offered to build the sewer
"At one time, the Town offered to build [the sewer], and [have O'Reilly] reimburse us," O'Dell said.
On Monday, Harkness said that once work begins on the sewer, "if weather holds up, it might be three weeks" to complete.
"Troy has been dedicated to keeping things on track," Harkness said. "They should be ready to roll."
Once the sewer is completed, it is not known what else O'Reilly will need to do before opening the Finnie Flat location to the public.
For this story, the Bugle has made several attempts by phone and email to talk with representatives from O'Reilly Auto Enterprises, LLC.
All attempts have gone unanswered.
-- Follow Bill Helm on Twitter @BillHelm42
More like this story
SUBMIT FEEDBACK
Click Below to: