One yard short of victory
Marauders lose to Cave Creek Cactus Shadows
Originally Published: September 2, 2017 1:27 p.m.
Mingus Union football suffered one of the toughest heartbreaks possible on Friday night as they came up a yard short of victory.
The Marauders (0-2) lost to Cave Creek Cactus Shadows 21-20 in their season opener after junior quarterback Antoine Zabala fumble the ball at the Falcons' one yard line with 12 seconds to go.
"It's definitely just a heart break," Zabala said. "I'll tell you guys this: I need to become more of a leader, I need to do more. Put this loss on me, nobody else. This is my team, this is on me tonight. Thank you guys."
Zabala was 11-for-12 passing for 135 yards with a touchdown and an interception, a 118.4 quarterback rating.
Zabala's near game winning touchdown wasn't the only miscue the Marauders had. They fumbled the ball many times, committed dozens of yards worth of penalties and missed an extra point when they led 20-14, before giving up the game winning touchdown and extra point combination.
"Too many mistakes, fumbles lose games," Mingus head coach Bob Young said. "Fumbles lose games, punt blocks lose games, missed extra points. Those are things that good teams don't do and we're not very good because we do them all the time."
Cactus Shadows scored their first touchdown on a blocked punt in the first quarter. Then they went up 14-0 at the start of the second quarter after recovering a Marauder fumble at midfield.
"Our defense kept us in it for pretty much the whole entire game," said Mingus senior linebacker/running back Tyler Kelly. "The only reason they got 21 points is because I had two fumbles, the other kids had fumbles, that punt over there that they blocked and they ran it back for a touchdown. We had our best offensive practice the whole entire season (Thursday) and (Friday) we just came out and didn't even show it at all. The offense we blew it, I blew it, we all blew it."
Mingus Union responded 7:10 left in the half with a 28-yard Kelly touchdown run. He also ran for a nine-yard score, where the extra point was missed.
Photo Gallery
Mingus Football Cactus Shadows 2017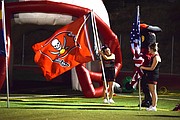 Mingus Union football hosted Cave Creek Cactus Shadows on Sept. 1 in their home opener. The Marauders lost 21-20. Photos by James Kelley
"I was disappointed in myself mostly," Kelly said. "I had two touchdowns but still."
Junior Alex Nelson ran for 109 yards on 10 carries. Kelly had eight rushes for 62 yards.
Junior athlete Chaz Taylor scored Mingus Union's other touchdown, a 14-yard reception.
Taylor caught four passes for 52 yards.
Cactus Shadows (2-0) is ranked eighth in the state by the Arizona Republic.
"We're not a very good team," Young said. "We're not well coached and we need to get better."
On a positive note, Kelly said the Marauders' young offensive line did well and that they've improved a lot.
"We ran the ball really well, they must've done something right," Young said. "We ran the ball up and down the field, just didn't hold on to it when we needed to."
The loss was Mingus Union's fourth straight to non region foes and their sixth of their last seven defeat at the hands of non Grand Canyon teams.
In week one the Marauders lost 58-6 at Gilbert Higley.
"They all hurt, they all hurt, losing hurts, by one, by 50," Young said. "The kids don't feel good about it, we worked hard. We expect better outcomes, we just have to perform better on Friday."
Up next for the Marauders is a road trip to Cactus on Friday. The Republic has them ranked fifth in the 4A. They are 2-0 after beating Bradshaw Mountain 61-23 and Marcos de Niza by a touchdown.
Mingus Union's next home game will be Sept. 15 when they welcome Lee Williams to town.
Kelly said the field was slippery on the humid night and maybe that could help explain the rash of fumbles on Friday.
"The defense did fine, I was disappointed they let them score at the end," Young said. "We could have stuffed them and won the game I don't know, we had a lot of guys going both ways and they go themselves out of position. The defense played well enough for us to win, it's just hard to overcome all those fumbles."
More like this story
SUBMIT FEEDBACK
Click Below to: