Mingus cheer hosts camp for kids
Originally Published: September 7, 2017 2:48 p.m.
Cottonwood youngsters can get their cheerleading fix next week as Mingus Marauder HS Cheer hosts its Mini Marauder Cheer Camp.
From Monday through Thursday from 5:30 p.m. to 7:30 p.m., and at the Mingus Union's football game against Lee Williams on September 15, the Marauder high school cheerleading program will host the camp for kids kindergarten through eighth grade.
Camp goers will learn four cheers, a dance and a stunt. They will perform with the high school cheerleaders for two quarters and at halftime.
"It's a blast," said Mingus Union head cheerleading coach Brenda Watson. "It's our biggest fundraiser but it's our funnest. The girls just have a lot of fun with these little girls and the little girls have a lot of fun. They get to cheer, that high school cheer experience, play games and we say they get to cheer with their big cheer sisters."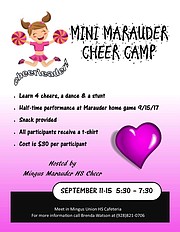 The cost is $30 per child but they do adjust the cost for siblings. They receive a shirt that they cheer in at the game and a snack.
Participants register on Monday night, meeting in the MUHS cafeteria.
At the camp they will be split up into different age groups.
"There will be five or six cheerleaders per age group, teaching them cheers, playing games with them and teaching them the dance," Watson said.
HDYF doesn't have cheerleaders this year.
For more information, call Watson at (928) 821-0706.
More like this story
SUBMIT FEEDBACK
Click Below to: