Camp Verde football holds on to get first win
Cowboys dominant in the first half but slow down as injuries mount
Originally Published: September 9, 2017 12:59 p.m.
After jumping out to a 22-0 first half lead, Camp Verde High football held on to secure their first win of the season.
The Cowboys (1-2) built up a 14-0 lead in the first quarter and then added eight more points in the second half. Camp Verde beat Arizona College Prep 22-0 on Friday night at home.
"It wasn't how we drew it up but it was a win, that's all that matters at this point," said Camp Verde head coach Jerome Rhoades.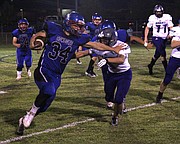 This was Arizona College Prep's (0-3) first ever road game.
In their first game, ACP lost 53-0 to Buckeye Odyssey Institute on Aug. 18. Then the Knights fell 72-0 to Scottsdale Christian.
"It was a dramatic improvement for us," said ACP head coach Myron Blueford. "I mean we're babies, we have four seniors, we have seven juniors, but they're all freshmen, they never played football before, so each game we're improving and this game in the second half our defense played lights out."
ACP is a big city public school in 2A, which is mainly small town teams and private schools.
Scottsdale Christian handed Camp Verde its second loss and has outscored opponents 141-7.
"They do really good there, they're not actually a bad team they've played really good teams like us so it was going to be a pretty even game tonight," junior Dominiq Bruno said.
Senior quarterback Payton Sarkesian scored the first touchdown on a 27-yard run. Then senior Ryan Loza ran for a touchdown and threw for a two-point conversion.
Bruno caught a touchdown pass for Camp Verde's other score.
"I think it was good," Loza said. "It was good to finally get a win and hopefully we can just keep rolling and keep it up and have a good week of practice."
Loza led all rushers with 100 yards on 22 carries. He also had 10 tackles and an interception and Bruno also had a pick.
ACP freshman Mark Chavez was 8-for-30 passing for 63 yards for the Knights. Arizona College Prep senior Jordan Diaz ran the ball nine times for 19 yards and freshman Dyson rushed six times for 14 yards.
With Camp Verde driving down the field at the end of the first half, Marte Serrano got an interception near the goal line to end the Cowboys' drive.
"They were new and they did some good things," Rhoades said. "They're well coached and they did some things pretty well and they're gonna beat some teams this year."
Camp Verde lost steam when three key players got hurt again.
"When we were executing our offense we were really good," Rhoades said. "Our three guys that got hurt again got hurt again and that limits what we can do on offense. Matter of fact, we only had one guy being able to run the ball in the second half. That makes it tough, it makes it a long second half."
Sarkesian, Bruno and back up quarterback/corner back Kolby Hedges were the players that got hurt. The Cowboys only have 33 players on their roster compared to 45 for ACP.
Sarkesian stayed in the game but only three one pass and it was intercepted. Bruno ran the ball five times for 25 yards.
"They're all starters," Rhoades said. "They're two of our three best players. When we're as thin as we are."
Bruno said the Cowboys defense did well. The Knights only came close to scoring twice, when they missed a field goal and Camp Verde blocked a field goal
"First half we did pretty good," Bruno said. "Second half we came out and they kinda exposed us, just couldn't execute the second half."
Loza said the second half focus was to run the clock down.
The win was Camp Verde's first since October 2016.
"It feels good, we're excited, it makes you more motivated to come out and give it your all," Loza said.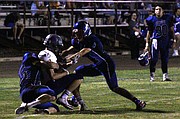 Like Camp Verde, ACP has their eyes on making it to the playoffs.
"The funny thing is that these boys have perspective," Blueford said. "They kinda get it, they know they're new, they know they're babies, they also see how well they're improving from each game and each practice. They know that going into section play next week is when it really counts and so they all have the aspirations of playing in the playoffs and I think we'll get there. We've been trending that direction and so next week I expect to have a big week for us."
Bruno said it feels good to get back into the column.
"Especially losing two in a row, kinda bumming all the time and to come out with a win, that should set the tempo for the rest of the year," Bruno said.
Up next for the Cowboys is a trip to Kingman Academy (1-2). The Tigers lost by a point to 4A Lee Williams on Friday.
Camp Verde's next home game is Sept. 22 against Tonopah Valley.
The Kingman Academy game opens up 2A Central play for the Cowboys. The win over ACP puts them in second place in the region with a 1-1 conference record.
"It is great, it is great," Rhoades said about getting back on the winning track. "The thing is, we go next week and we play Kingman Academy and they are pretty good, so we got to be ready to go next week."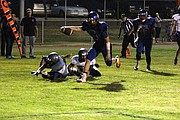 More like this story
SUBMIT FEEDBACK
Click Below to: