Yavapai College reopens Sedona Center with new culinary kitchen
By
Bill Helm
|
BillHelm42
Originally Published: September 9, 2017 3:49 p.m.
SEDONA – Sweet – and savory. These two flavor profiles can be either delicate or overwhelming. Or sometimes, they can be both.
Work this past summer to redo Yavapai College's Sedona campus meant adding two brand new teaching kitchens for the school's culinary program. According to Dr. Barbara Waak, associate dean for the College's
If You Go ...
• What: Reopening of Yavapai College's Sedona Center
• When: 3:45 p.m. Tuesday, Sept. 12
• Where: 4215 Arts Village Drive, Sedona
• More info: 928-649-4266
Verde Valley campus in Clarkdale, the kitchens are specialized because one is for baking and pastries, and the other is the savory side.
Waak describes the baking and pastry kitchen as having "very specific equipment, such as a proofing cabinet for breads and a steam oven for foods such as croissants."
With eight large working stations with ovens, ranges, fryers, grills, and reach-in freezers and refrigerators, the savory kitchen also includes three walk-in coolers.
But a kitchen is only a good as its chef, and Yavapai College has staffed its two new cooking areas with three of the area's finest chefs: Kat Biermann, owner of Verbena Pastries and a chef at the Tourist Home Restaurant in Flagstaff; Jen Jackson, a Culinary Institute of America Certified Professional Chef; and Sedona chef Darryl Tingler, who has 30 years of experience in the food industry.
"With the state of the art equipment, we will provide students with the knowledge, confidence and hands-on experience necessary to immediately contribute at any restaurant, hotel, or resort," Jackson said.
Meet the chefs
Before Chef Jackson went to culinary school, she owned and operated one of Portland Oregon's first food trucks.
"Well before they were so cool," the college's lead culinary instructor says.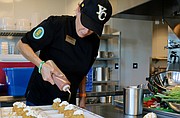 Not only did Jackson gain her formal education from Oregon Culinary Institute and the Culinary Institute of America, she fell in love with teaching.
Since then, she has taught at Sur La Table in Scottsdale's Fashion Square, and has been a culinary instructor for the Community Kitchen of St. Mary's Food Bank in Phoenix.
Two years ago, Jackson began teaching at Yavapai College, and says she is "very passionate about our program, the students and the wonderful people I get to work with every day."
Jackson says her best tip for an aspiring chef is "never stopped educating yourself."
For Chef Tingler, his advice is simple – and humorous.
"Strive to learn something new every day," he says. "And don't get discouraged if you burn the soup!"
Tingler's culinary career began was in his ninth-grade, all-boys food class.
After studying at the Culinary Institute of America, Tingler was hooked on French cuisine. Though he says he can eat "either Italian or Mexican food every day." 
Not only does Chef Biemann teach at Yavapai College, she also teaches baking and pastry at the Sedona Center For The Arts.
Originally from Germany, Biemann lived in the United Kingdom before coming stateside. Upon completion of her culinary studies at Le Cordon Bleu in Pasadena, California, Biemann worked in Casperia, Italy, and took a chocolate class in Milan, Italy.
Since her return to the United States, Biemann has worked mostly in Arizona and California, where she says she loves to bake breakfast pastries, such as French crullers, chocolate croissants, German sweet poppy seed rolls, and sticky buns, made with fresh caramel sauce.
Her suggestion for anyone who wants to become a chef is to "focus on your passion, and keep looking forward."
Grand re-opening
At 3:45 p.m. Tuesday, Yavapai College will officially reopen the facility, following renovations that include new offices and classrooms, as well as relaunching the school's Culinary Arts program.
Before a tour of the center and a celebratory ribbon cutting, the College's Verde Valley Campus Executive Dean Dr. James Perey will offer a few opening remarks, which will be followed by remarks from guest speakers, including Yavapai College District Governing Board member Dr. Connie Harris, Sedona Mayor Sandy Moriarty, and Yavapai College President Dr. Penny Wills.
The Sedona Center will also be the site of the college's Hospitality program. Hospitality recruiter and trainer Charlie Mormino, as well as Tonya Nolan, the college's business management instructor, as well as assistant manager at Adobe Grand Villas in Sedona, will serve as instructors for courses such as Property Management, Foods Systems Management, Financial Management, and Front Office Procedures.
Yavapai College's Sedona Center is located at 4215 Arts Village Drive. Call 928-649-4266 for more information.
-- Follow Bill Helm on Twitter @BillHelm42
SUBMIT FEEDBACK
Click Below to:
More like this story