Students learn Yavϸe gwaaga (Yavapai language) to abaja vak gwaage (talk to people)
Camp Verde's Yavapai teacher hopes kids 'learn the language and pass it around'
By
Bill Helm
|
BillHelm42
Originally Published: September 12, 2017 1:36 p.m.
CAMP VERDE – For about an hour, four days each week, Frieda Eswonia and her husband run the Yavapai language class at Camp Verde High School.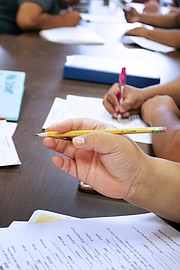 A member of the Yavapai-Apache Nation, Eswonia is fluent in Yavapai. A full-blooded Yavapai, Eswonia's husband is of German ancestry.
Dale Gohr and Frieda Eswonia have been married 20 years. Gohr says he knows a "lot of words," though he admits that he has "trouble putting them together into a sentence or a normal thought pattern."
Eswonia teaches the school's Yavapai language class, Gohr serves as her assistant. Their collective goal is to tach the basics of Yavapai language.
"They say that it's a dying language," Eswonia laments. "I don't believe that. But the ones who are fluent are being lost."
Ask Eswonia or Gohr, and the phrase "identity crisis" plays a role in their desire to pass the Yavapai language from their generation to the high schoolers they see each day.
"We believe in the language," Eswonia says. "It identifies you. The identity crisis is because we don't know the language. This keeps the culture alive. Teaching history, too, know their background. The history of the Yavapai hasn't really been taught. It tells where they came from, and it's important."
'Learn the language and pass it around'
Eswonia started her Yavapai language students with greetings, as well as basic and extended vocabulary.
A recent lesson was possession expression, from English to Yavapai.
"Mine, yours, theirs," Eswonia says. "'Let's' expressions, such as 'let's eat,' 'let's go to sleep.'"
Living on either the Camp Verde or Clarkdale reservations, Eswonia says that most kids know "at least a few [Yavapai] words."
"We're running out of teachers," Eswonia says. "I'm hoping some of the kids will learn the language and pass it around."
During the school year, Yavapai language students will learn to translate words from Yavapai to English, as well as from English to Yavapai.
Helping kids 'figure out their future'
There are people who want to learn their native languages, Eswonia says. "And they should be able to learn."
It's the opportunity for members of the Yavapai-Apache Nation to learn their respective languages that caused Camp Verde Unified School District Superintendent Dr. Dennis Goodwin to solicit help from the Nation.
"It's about providing more opportunities to excite our kids to come to school," Dr. Goodwin says. Jane Russell-Winiecki, the Yavapai-Apache Nation's Tribal Council Chairperson, "has been very supportive."
"It's important for these kids to honor their culture with their languages," Dr. Goodwin says. "It helps us figure out who we are. Anything we can do to help kids figure out their future."
Dr. Goodwin says that eventually, he'd like CVUSD to offer both Yavapai and Apache as two-year programs, much like Spanish I and Spanish II.
"I also would like to see this at the middle school," Dr. Goodwin says.
According to Russell-Winiecki, the Yavapai-Apache Nation has 47 students at Camp Verde schools. Seven of them are enrolled in the school's Yavapai course.
"We're trying to get to 10," says Camp Verde High School Principal Jason Douvikas. "The kids love the class. But we're continuing to get the word out.
-- Follow Bill Helm on Twitter @BillHelm42
More like this story
SUBMIT FEEDBACK
Click Below to: