Camp Verde falls to Kingman Academy, 48-0
BEAU BEARDEN, Kingman Daily Miner
Originally Published: September 16, 2017 12:49 p.m.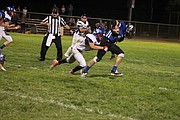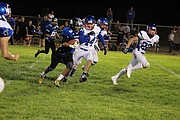 KINGMAN – On a team that features a strong senior class, it was a freshman who stole the show Friday night as Kingman Academy High School's Gabe Imus accounted for four touchdowns in a 48-0 win over Camp Verde at Southside Park.
"We couldn't get anything going," said Cowboys head coach Jerome Rhoades. "They swarmed us pretty good. We'd think we'd start getting some movement on offense and then all of a sudden, we'd snap it over the quarterback's head or we'd throw an incomplete pass or drop a pass.
"It'd kill our mojo," Rhoades continued. "We have got to learn to be able to keep the drive alive by doing the things we can control – catching the football, good snaps and those kind of things."
Camp Verde (1-3, 0-1 2A Central Region) turned the ball over three times, but all of those miscues came in the second half when it was already trailing 24-0. The Cowboys just couldn't find their groove, as quarterback Payton Sarkesian and his offense struggled to move the ball.
The Tigers (2-2, 1-0 2A Central Region) didn't have any issue marching down the field, scoring their first touchdown with 9:56 remaining in the first quarter when Imus caught a touchdown pass from Academy quarterback Kekoa Makaiwi-Stroup.
The duo weren't done yet, as Makaiwi-Stroup found Imus again with 11:26 to go in the second quarter to give the Tigers a 16-0 lead after a successful two-point conversion.
The Academy tacked on one more score before halftime when Makaiwi-Stroup hit Hayven Potter for a 55-yard touchdown with 23 seconds remaining.
The Tigers continued to move the ball in the second half and Makaiwi-Stroup found Imus again for a 55-yard touchdown to blow the game open at 32-0 after another successful two-point conversion. While Imus didn't tally another receiving touchdown, he came in at quarterback late in the fourth quarter and tossed a five-yard pass to Nate Perea.
Imus's four-touchdown performance wasn't anything surprising to Academy head coach Dan Stroup.
"Imus had another great performance," he said. "He's a heck of an athlete as a freshman."
While the Cowboys didn't come out on top, they did force the Tigers to turn the ball over four times, including an interception in the end zone.
"We did some things pretty well that we can build on," Rhoades said. "We're going to be excited about those on Monday. We're going to come back to work and we're going to get after Tonopah Valley next week."
SUBMIT FEEDBACK
Click Below to:
More like this story