Mingus swimming teams sweep Bradshaw Mountain
Both boys, girls beat Bears

Originally Published: September 16, 2017 12:57 p.m.
On Thursday afternoon Mingus Union swimming and diving returned home to sweep Bradshaw Mountain.
Both the boys and girls Marauder swims team beat the Bears.
"Great meet," said Mingus head coach Gretchen Wesbrock. "Bradshaw has a lot of new swimmers but also some returning kids, so I think our kids were surprised in some areas they had some competition but overall great. Great relays."
Wesbrock said the focus in meet was on the details. It comes between state qualifying meets.
"What we talked about at the meet today was I wasn't looking for necessarily time drops," Wesbrock said. "We've been working so much on the details. So what I wanted to see (Thursday) was that they were paying attention to the details. So 'what are you doing underwater?' 'what are you doing on your walls?' and they did it, they did it, so I'm very, very proud."
After one qualifying meet, Wolves Classic Invitational at Chandler, the Marauders find themselves high in the Division III rankings.
The girls 200 medley relay and Rylie Burke in the 50 Freestyle are in first in the state. Burke is second in the 100 Free and the Marauders' 200 Free relay is in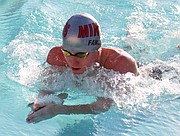 second.
Zoey Arwine, Hannah Arwine are second and third in the 50 Free and Emma Warner is fifth and Emily Grasso seventh.
Skylar Mohr is in fifth in the 200 Free. She is fourth in the 100 Free as well.
Warner is fourth in the 200 IM and second in the Breast. Grasso is eighth in the 100 Freestyle and fourth in the 100 Back.
Zoey Arwine is third in the 100 Fly. Charlie Green is 10th in the 100 Breaststroke.
The 400 free relay team is fourth.
The boys' rankings were not available at press time.
Up next for the Marauders is the second qualifying meet of the season, at the Brophy/Xavier Invitational in Phoenix.
"We've got a whole week of training ahead of us before we go to our next qualifier," Wesbrock said. "So it will be nice, we're gonna get in some good yardage but also really again focus on those details."
More like this story
SUBMIT FEEDBACK
Click Below to: