Mingus for the win
Unbeaten Lee Williams takes loss
Originally Published: September 16, 2017 1:10 p.m.
Mingus Union football snapped its losing streak and handed previously unbeaten Lee Williams its first loss in a blow out on Friday night.
The Marauders (1-3, 1-0 Grand Canyon) beat the Volunteers 38-0, led by four touchdowns by junior Alex Nelson.
"It feels great, it's a big relief, now everyone in the region knows that we're coming because we just knocked off a 3-0 team off the board, now they're 3-1 and now we gotta do what we gotta do for the rest of the region," Nelson said.
Nelson ran for 129 yards on 20 carries and had 187 all purpose yards.
Mingus Union lost their first three games of the season, including their home opener against Cactus Shadows on the last play and then Cactus pulled away late in Week 3.
Against Lee Williams (3-1, 0-1), Mingus Union jumped ahead with a 6-yard touchdown run from senior Tyler Kelly on the first drive of the game. Then on the Marauders' next drive, junior Chaz Taylor had a 26-yard touchdown catch.
"We've been close the last two weeks, they're both winnable games and it just seemed like we found ways to lose in the second half," Mingus head coach Bob Young said. "We needed to get ahead and get some confidence, these young guys need confidence, so it was nice to jump on them a little bit."
Young said he wasn't worried about the young Marauders losing confidence after the tough first three games.
"I think these guys were realistic, they knew we played really good teams and you could see we were getting better and we were getting close so we just knew we had to come out and play well," Young said.
Nelson said the difficult early schedule helped the Marauders, and that the Mingus Union linemen were tired of going up against the big linemen that the Valley of the Sun teams that they faced had.
Photo Gallery
Mingus Football Beats Lee Williams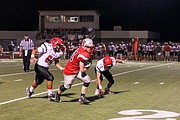 On Sept. 15 Mingus Union football beat previously unbeaten Lee Williams 38-0 to open Grand Canyon Region play. First 13 photos by Halie Chavez, last 6 by Vyto Starinskas
"I had to step it up, I haven't been playing how I have been and I have a lot of potential and these coaches have been pushing me as hard as I can and I'm just doing the best that I can for them and for my team, so it all goes to them," Nelson said.
Going into the season Mingus Union's rebuilt and young offensive line was a concern but they have impressed of late.
"The line has been amazing," Nelson said. "They're young but they're learning really fast and they're really good when they know what they're doing," Nelson said.
In the second quarter, after Taylor caught a 63-yard pass, Nelson ran for an 8-yard touchdown.
Nelson's big night came after Kelly ran for 221 yards on 14 carries and for two scores against Cactus.
"They were keying on Tyler and if you're keying on Tyler then Alex is probably the next guy," Young said. "He had some good runs, I'm sure there was some good blocks on the perimeter but he ran hard and protected the ball."
After Nelson ran for a 2-yard touchdown, Mingus Union led 26-0 at the half.
Nelson returned a Volunteer punt for a 45-yard touchdown in the third quarter.
"We set up that wedge on the sideline, we knew I had the speed and we had some outside blockers that knew what they were doing and it worked out well and we all did our jobs and that's what happens," Nelson said.
Nelson capped the scoring with a 28-yard run after that.
The bad news for the Marauders was that Taylor "tweaked his knee" according to Young and sat out most of the second half.
Taylor had four catches for 121 yards.
Junior quarterback Antoine Zabala was 12-for-17 for 208 yards with one touchdown and no interceptions for a 131.5 quarterback rating. He also ran for 31 yards on seven carries.
The win snapped Mingus Union's five game losing skid dating back to last year and was their first shut out in two years.
"Overall the whole defense was a lot better," Young said. "It seemed like our pursuit angles – and that's what beat us last week against Cactus, we had some bad break downs in angles – and it just seemed like it's a lot better I'll check on film but I know we did a lot better at that."
Up next for the Marauders is a trip to Mohave (2-2, 1-1) on Friday. Their next home game is Sept. 29 when Bradshaw Mountain (0-4, 0-0) comes to town.
The win over Lee Williams moved the Marauders from the bottom of the Grand Canyon standings to the top, behind only Flagstaff (4-0, 1-0).
"That's what it's all about right now," Young said about getting region wins. "In order for us to get to the playoffs we have to win our region so we know that going in, so we take it one game at a time."
More like this story
SUBMIT FEEDBACK
Click Below to: