Editorial: TVR 2017 looks to be major success story
Originally Published: September 19, 2017 2:30 p.m.
At first glance, this year's Thunder Valley Rally became the success story its proponents always believed it could be.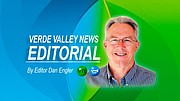 The split-venue concept proved a true benefit for TVR 2017. First, it relieved the evening congestion from Old Town. Second, the evening concerts at Riverfront Park proved to be a more spacious and pleasant experience for music fans.
Early reports show that TVR 2017 had greater attendance than past installments of Thunder Valley Rally. Outside of the predictable vehicle mishaps that are bound to occur with such an event, area law enforcement agencies reported the event was a success from a public safety standpoint; Cottonwood PD only reported one misdemeanor offense occurred during the weekend event.
Hopefully, the changes made this year will ease, if not eliminate, the acrimony felt by some Old Town Cottonwood merchants. Human nature being what it is, you have to expect that some people simply cannot be pleased.
As for the bottom-line on TVR 2017, that will take some time to assess as an event of this magnitude is a bookkeeper's worst nightmare. Still to be calculated are the overtime costs from city departments that worked the event such as public safety, transit and public works. The city's accounting staff still needs to determine costs for everything from backline/sound, generators to event security to cash proceeds from parking, poker run, on-line ticket sales and the two days of on-site ticket sales.  
Critics of the event have pushed for a 100-percent event cost recovery for the up-front costs provided by the City of Cottonwood. We'll see if this is the year that happens. Already, the event achieved an approximate 71-percent cost recovery for the city from the 2016 event. The total cost for TVR last year was $149,000 and the revenues were $105,000 for a city cash investment of $44,000. 

But even if it doesn't break even or make money, no one can deny that TVR is a cash cow for the city in terms of sales tax revenue. During last year's meetings on TVR, Cottonwood's finance manager, Rudy Rodriguez, confirmed there was a noticeable swell in September sales tax and he attributed it to TVR.
With or without actual 100-percent event cost recovery, TVR is an undeniable financial success for Cottonwood.
Early reports from this year's event show it was a success by every measuring stick.
More like this story
SUBMIT FEEDBACK
Click Below to: