Camp Verde football falls to Tonopah Valley
Cowboys lose third game of their last four after the Phoenix pile it on in the second half
Originally Published: September 23, 2017 1:49 p.m.
After getting overpowered in the second half, Camp Verde High football lost their second game in a row, on Friday night at home.
The Cowboys (1-4, 0-2 Central) lost 36-0 to Tonopah Valley after the Phoenix scored 28 points in the second half.
"I think the first half we came out pretty strong and we were all pretty hyped and they got their mojo and we lost ours," said Camp Verde senior quarterback Payton Sarkesian.
Following their 48-0 lost at Kingman Academy in Week 4, the Cowboys have been outscored 84-0 the last two weeks.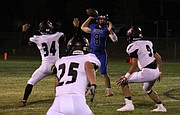 Camp Verde head coach Jerome Rhoades said the Phoenix adjusted well in the second half.
"It wasn't what we did, it's what they did," Rhoades said. "We put in a defense to defend their formations that they were doing in the first half. We forced them out of that. So all week long we prepared for what they did in the first half. The second half, the trips and the doubles alignment and things like that we didn't prepare for. So we had kids that we moved specifically for stopping their running game in the first half, we had them pout playing in space and we had some kids out of position and so it wasn't so much what we didn't do, it's just they forced us to play kinda on the run, making adjustments and we just couldn't capitalize, couldn't get it done."
After a scoreless first quarter, Tonopah Valley scored the game's first points on a 5 yard run by senior quarterback Chris Davis.
Camp Verde looked like they answered with a touchdown of their own very late in the second quarter when senior Kevin Oothoudt caught a deflected pass in the end zone but the officials ruled it incomplete.
Then after recovering a fumble, Camp Verde failed again to score.
"I don't know if it's a combination of play calls or what, but we just couldn't execute it enough to get it in the end zone," Rhoades said.
In the third quarter, TV junior Angelo Anderson scored two and five yard touchdowns.
Then senior Tristan Boatwright caught a 51-yard touchdown pass and Cooper Arndt ran for a 31-yard score. However the 300 pound Justin Cullen attempt to run in the two point conversion after the game's final touchdown failed.
Tonopah Valley (3-2, 1-0) rebounded from a loss last week to Santa Cruz Valley. The Phoenix sit in first place in the 2A Central.
"They're good, they're good," Rhoades said. "They're as good as Kingman, we just played better tonight than we did against Kingman."
The Cowboys were short handed, without Dominiq Bruno and Kieran Chrisman and then Steven Petty exited the game with a knee injury. The Cowboys, who have 33 players on the roster, only suited up 24.
"When you lose your top two guys it's tough, it's tough to pick the pieces up and keep going," Rhoades said.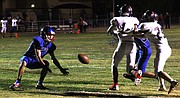 Although the Cowboys were shut out for the second week in a row and third time in the last four weeks, they passed the ball around the field.
"I think our line were pretty beast (Friday) night with the pass blocking, so I was able to throw the ball in the first half, so that was good," Sarkesian said.
Up next for the Cowboys is senior night on Friday, when they host Paradise Honors (2-2, 1-0) at 7 p.m.
More like this story
SUBMIT FEEDBACK
Click Below to: