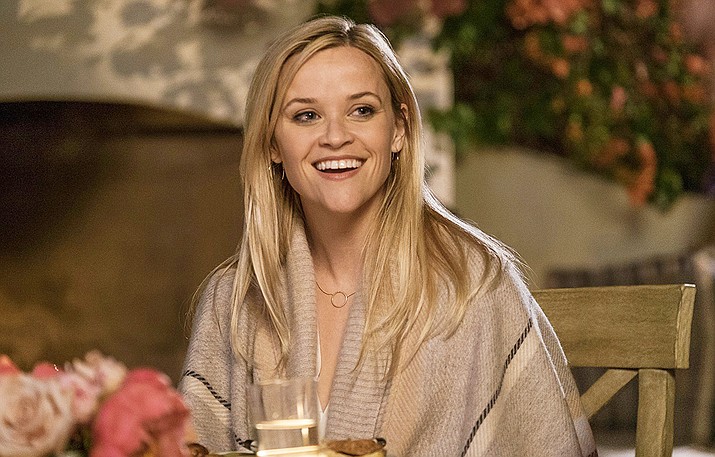 ---
---
It is always a pleasure to see Reese Witherspoon brighten a movie screen, but that charm does not help lift Home Again to be more than a mediocre film in which almost every scene is predictable. Home Again is reminiscent of old 'B' movies that are not offensive, just not good enough to care about.
Witherspoon plays Alice Kinney, the daughter of Hollywood icons of the past. Her late father was a creative force in films, with gold statues to prove it. Her mother, Lillian Stewart (Candice Bergen), was a leading actress, at one time.
Alice married a music recording executive, Austen (Michael Sheen), and they were raising two daughters in New York. Alice has been unhappy in the marriage and we start on her 40th birthday after she and the two girls have moved back to Los Angeles. They have settled in the luxurious home where she grew up.
Alice is out with a few girlfriends celebrating her birthday at a bar. At that same venue is a trio of young men (in their 20's) who are creating a movie. One, George (Jon Rudnitsky), is the writer. Teddy (Nat Wolff) is the actor and Harry (Pico Alexander) is the producer. Harry is a handsome fellow who is stricken by Alice's appeal and he moves on her. After lots of alcohol has been consumed by one and all, she offers little resistance.
Alice allows the three penniless young men to move into the guest cabin adjoining her house. The two young daughters immediately make friends with the boys, who become pals with them. When Lillian stops in, George recognizes the former star and the boys are thrilled to be with a movie star. Lillian, long out of the spotlight, is thrilled with the attention.
Alice and Harry start an affair, but a somewhat trivial incident breaks it up. And then — no surprise — husband Austen shows up, unannounced. Some bantering and some arguments ensue, but we can see where it is going before it goes.
The cast perform their roles up to par; i.e., nothing special. The only unexpected dialog comes from Alice's younger daughter, Rosie (Eden Grace Redfield). She speaks and reprimands the adults with grammar and vocabulary beyond the level of a normal 6 or 7-year-old. It's cute, but …!
There really isn't anything deep here and we don't know much about the individuals involved. You can experience an occasional chuckle or smile for the level of humor in Home Again. So, Home Again is a comfortable way to pass an hour and a half but it is not a memorable film.
Home Again is at the Harkins Sedona 6 Theater.