CV boys soccer recovers to beat NPA 3-0, continue streak
Originally Published: September 28, 2017 3:37 p.m.
After a slow start, at least by their standards, Camp Verde High boys soccer pulled away from Northland Prep in the second half.
On Tuesday afternoon, the No. 5 Cowboys (8-2, 1-0 Central) beat No. 14 Northland Prep 3-0.
"It was one of those ones that we had more potential than what we did, we dominated play and when you dominate and let a team stay in, then those guys start thinking they can win," said Camp Verde head coach David Miller.
The Cowboys outshot NPA 38-5 but only led 1-0 at the half. Northland Prep (2-6-1) is on a five game winless streak and has lost three in a row.
Senior Wesley Loveall scored Camp Verde's first goal.
"We needed to get better finishes and more of them in order to have more confidence in ourselves," Miller said. "And I think we started doubting ourselves at the end of the first half because we had plenty of opportunities and weren't finishing so we just need to work on our finishing and then keep our confidence high."
In the second half key defender and senior Nate Schultz was moved up to striker and the Cowboys pulled away.
"We shook up a few things, I moved up to strike for a little bit Joseph Jones stayed in the mid, which he tends to venture out, but when he stays in the mid, we're dominant in the middle and so that was the difference," Schultz said. "We didn't necessarily play up to our potential but we played hard and we played our hearts out, it's our soccer."
Schultz scored the Cowboys' next two goals. Jones had two assists and junior Brandon Cruz one assist.
"This is my first time doing it all season, I haven't played striker in two years, so I'm still a little bit rusty, so there's that (laughs)," Schultz said.
Senior Preston Maynard had three saves.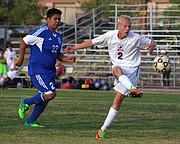 Last week the Cowboys beat NPA 4-1 in Flagstaff. Camp Verde has won five games in a row and outscored opponents 14-1 during that span.
Miller is concerned with the Cowboys getting all their offense during the run of play and not on set pieces however.
"Our scoring is coming off the field so we need to make sure that we're winning the ball, shield the player off and get better shots and just finish the ball, we hit the goalie I don't know how many times or we didn't get the shot off," Miller said. "There was times where the ball was there and we touched it once and then shot it, instead of a one touch shot."
Miller said the shorter Cowboys are at a disadvantage against tall teams like the Spartans.
"We're height challenged as a team, I mean we have two or three tall boys but we're generally around 5-7 to 5-9," Miller said. "The ball eventually has to come to the ground and that's where we have the advantage but when it's chest high, the guys who are taller have a little bit more of an opportunity. We'll make our space and we'll get our right amount of headers but we need to be better on set plays but I think where we're going to be more successful is on offense, just playing pure offense."
On Saturday the Cowboys beat Page 5-0. Cruz scored two goals, Loveall one and had an assist, Kelton O'Grady one goal and Luis Venegas also scored. Maynard, Jones and Manuel Interaino also had assists.
Up next for the Cowboys is the Old Pueblo Classic in Tucson this weekend. Their next home game is Oct. 5 against No. 21 Leading Edge Academy at 6 p.m.
"We play to the level of the teams that we play," Schultz said. "So I think that's a motivation fact for us. If we know we're better we tend to shrink down from the challenge but if we can figure out how to compete to 100 percent a 100 percent of the time, I believe we can take on Chino Valley and PCD and we can beat them."
More like this story
SUBMIT FEEDBACK
Click Below to: