Romanska completes Flagstaff to Grand Canyon Stagecoach Line Race
Magdalena Romanska, Special to the VVN
Originally Published: September 28, 2017 1:50 p.m.
On September 23, 2017, Magdalena Romanska, owner of the Be Fit Fit in VOC, completed the 55km (34 mile) Flagstaff to Grand Canyon Stagecoach Line Race.
On the race day, the foothills of Snowbowl (the starting point) experienced below-freezing temperatures. Over the course of the day, they morphed into a great, sunny, "just right temps" race day, with gusts of wind stirring lots of sand and dust around the happy runners.
The distances included the individual 55km, 100 miles, and team relays for both distances.
The race is small and it is very prestigious in the ultra-running community. It is star-studded, too. In Magdalena's group, there were less than forty participants. However, the best ultra-trail runners, such as Jim Walmsley, Cody Reed and Miguel Moreno, completed Magdalena's distance. Rob Krar, another top ultra-trail runner, attended the starting lane.
The first six miles of the race goes, well, up… It steadily climbs the Snowbowl trails, only to drop on the north side of the mountain, by the Bismarck Lake. Ponderosa pine forest changes into the lovely alpine aspen, which then morphs into the pinion-juniper grasslands, and cedar. High altitude (the event takes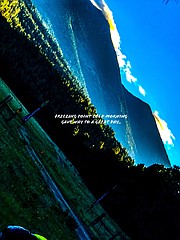 place above 7,000 feet, with the max elevation at 8,800 at the Aspen Corner), partially rugged course, dust and the lack of water at the last water station before the finish lane of the 55km made it for one interesting and wonderful day for the challenge-seeking participants.

Jim Walmsley won Maggy's distance, clocking in at the blazing 4:17hr. Kristina Phan was the first woman in 5:21 hr. Magdalena completed in 8:14hr.
The runners conquered a major elevation change, and it took Magdalena 65 thousand steps to complete the race. The course started near the cross section of the Road 180 and Snowbowl Road (at the Hotshots Ranch) and Magdalena's distance finished at the Cedar Ranch. The 100 miler continued on to Tusayon. The views included that of the ever-majestic Humpreys, the surrounding lakes, Painted Desert, and the Navajo Monument. The course followed the AZ Trail and the historic Flagstaff to Grand Canyon Stage Line route, used by adventure seeking tourists between 1897 and 1901. Many of today's race aid stations were located at the original stage line rest stops and watering holes.
Single track was mixed with some two-track and forest dirt roads, the Arizona Trail four-wheel access roads and FR.
The race is presented by Babbit Ranches, and directed by Ian and Emily Torrence. Eric True was the ever-important and needed medical director (thanks for your headache managing it all, Eric!) and the Coconino County Sheriff and his team in vehicles and horses did a great job, as always!
More like this story
SUBMIT FEEDBACK
Click Below to: