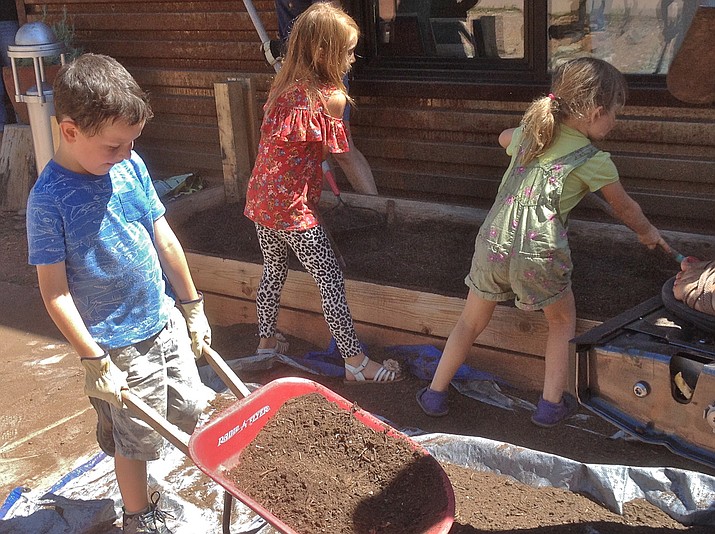 A school garden is a living example of the predictable and unexpected lessons that make life possible as well as enjoyable. It is a place where our children and grandchildren may plant and nurture seeds, watch them grow, take care of them, and benefit from their beauty and nourishment.
This school year, some 14 schools have started school gardens in Sedona and the Verde Valley. Gardens for Humanity is working with them to build their school garden team, help with the garden, and introduce the children and teachers to the planting and care of their garden with the many lessons they can learn there.
A garden starts with soil and ends with taste, color and fragrance. In between, we investigate and nurture micro-organisms, seeds, learn about water, weather, seasons, and the web of life that makes a garden and our food possible.
Part of growing food, herbs, and flowers is discovering how to prepare tasty dishes with the fresh produce, about food traditions important to health, enjoyment and culture, and about the beauty and care of nature.
Some schools we work with have cooking classes, gardening classes and culinary clubs. Some have started gardening clubs after school, while others have designated their gardens as central to their STEM science programs.
Verde Valley School has expanded the potential of a school garden by creating a farm that provides food for their students and the community.
In fact, a garden is a magnet for community. Part of the web of life children learn about in a garden is relationships. School gardens would not thrive without the active support and participation of the community.
For example, last spring Big Park teacher Michelle Johnson wanted her fifth-sixth grade class to compost and start a garden. Gardens for Humanity got her started with worm composting right in her classroom.
Then we asked people in our area if they had any large nursery pots they didn't need. Within a week we got about 20, then the Village Ace Hardware donated bags of garden soil and peat moss, and voilà a container garden was created! This year Big Park School would like to expand container gardens to other classrooms.
We love how so many adults help make school gardens successful! In the Village of Oak Creek we have the Sedona Area Garden Club helping spread the beauty and creating little habitats like the pollinator garden at Big Park School. In the Verde Valley we have the Verde Thumbs Garden Club whose members have been essential in several successful school gardens. Some Master Gardeners in our area have adopted school gardens and provide needed help and mentorship.
Yavapai County Health Services gives much needed garden help through their outreach program, such as organizing a garden club at West Sedona School. Businesses have also been generous with their support.
If you would like find out more or help school gardens through donations, volunteering or other support, visit the Gardens for Humanity website www.gardensforhumanity.org.