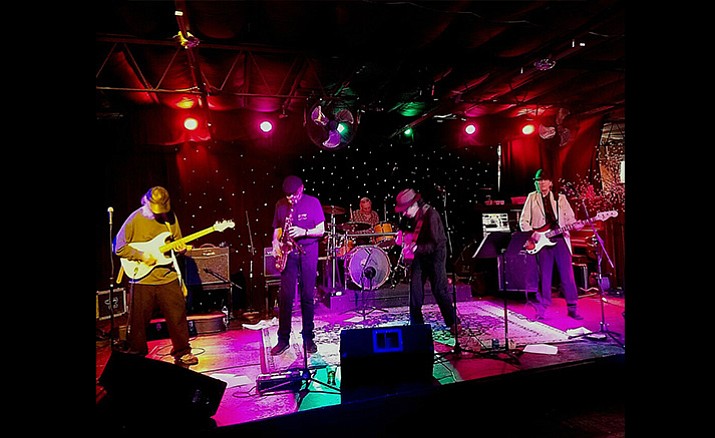 ---
---
Green Light, Sedona's ever-popular original-rock band, returns to Vino Di Sedona Saturday, April 7, 7 to 10 p.m.
The band, consisting of Tommy Acosta on bass guitar and vocals, Dave Rentz on percussion, J.R. Robusto on lead guitar and Chicky Brooklyn on rhythm guitar and lead vocals plays only original tunes written by Acosta and Brooklyn.
The music is danceable and is dominated by great harmonies and memorable songs. The musicians in the band are all well-known community players
Percussionist Dave Rentz is a highly respected performer known throughout Northern Arizona as a premier musician of many talents.
J.R. Robusto is a songwriter, performer and a bona fide virtuoso guitarist who plays with many area bands. His lightning leads and tasteful fills add just the right amount of flavor to the Green Light songs
Tommy Acosta is an Orange Records recording artist who has played with numerous bands in New York City. He has recorded on many albums with extraordinary musicians in his musical journey. Chicky and Tommy have been playing together for many years and their harmonies blend perfectly.
They write songs people immediately bond with and enjoy. The songs are full of emotion and tell a musical story of love, passion and good ol' rock "n" roll.
"We play songs people can identify with," Tommy said. "Everyone loves "Love" and love is what our music is about."
The band will perform in an intimate setting for the April 7 gig at Vino's. People are encouraged to come early to get a good seat as the band draws a sizeable following.
Vino Di Sedona offers live music every night, great tapas and fine wine and beer. There is also a patio in the back for those who enjoy a laid-back atmosphere.
Vino Di Sedona is located in West Sedona directly across from the Circle K, 2575 W. SR 89A, (928) 554-4682. Visit VinoDiSedona.com or visit greenlightrocks.com for more.