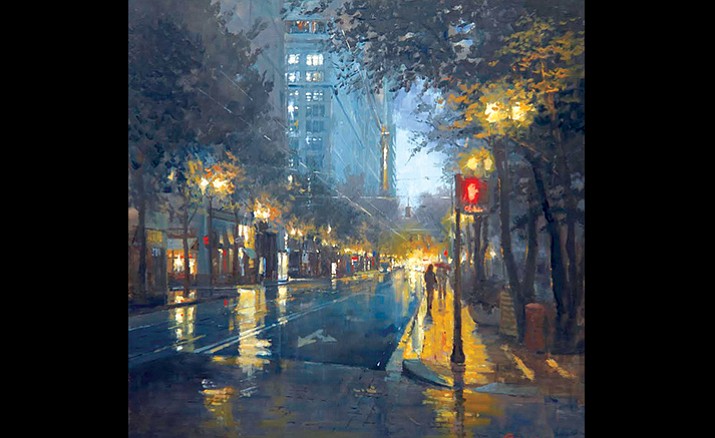 ---
---
Mountain Trails Gallery welcomes the warm air of Spring and the opportunity to celebrate the revival and renaissance of classical painting and sculpture.
Artists who are fascinated with vigorous figurative drawing, painting and sculpting the human anatomy, architecture and nature are refreshed with new learning and wisdom. Mountain Trails Gallery is located at Tlaquepaque at 336 Highway 179, upstairs in Suite A201 across from Toy Town.
Vicki Catapano began her painting "Enemy Hunter" by drawing the figure, then doing an underpainting in sepia/burnt umber tones, taking note of the various lights and darks before she begins to paint in oil.
Often there are many layers of color as well as studies before arriving at its final appearance. Also featured are cityscapes, landscapes, and figurative paintings by Richard Boyer, Oil Painters of America award-winning artist and signature member of the American Society of Marine Artists.
Betty Carr has new inspiration each day of her life. This artist's ebullience awakens each and every painting as she captures the light of the morning sun washing across the Sonoran Desert.
Betty has recently been selected as a master painter in the American Impressionist Society. She is also a signature member of the Arizona Plein Air Painters Association.
Sedona's sculptor Susan Kliewer continues to draw inspiration from painting and sculpting every day as new creations are born. Kliewer will introduce her new "Crow Fair Shawl Dancer" in bronze at the opening reception as she brings her tenth Native American dancer to life.
The Shawl Dance is one of the highlights of the Pow Wow tradition where the ladies wear colorful fringed shawls, leggings, and beaded moccasins as they twirl and spin, as the movement of the fringers and colors dazzle the eye like a butterfly emerging from a cocoon.
Kliewer was recently awarded Best of Show at the 2018 Cowgirl Up. Exhibition at the Desert Caballeros Western Museum in Wickenburg, Arizona for her sculpture "Teton Warrior." These artists and more are a part of Mountain Trails Gallery's commitment to fine art from the American West, be it traditional in approach or those artists whose spark comes from a more contemporary way of seeing the world.
The gallery welcomes art collectors, art lovers, and all those new to the area to enjoy a festive reception at Mountain Trails Gallery during First Friday, April 6, 2018, 5 to 8 p.m.