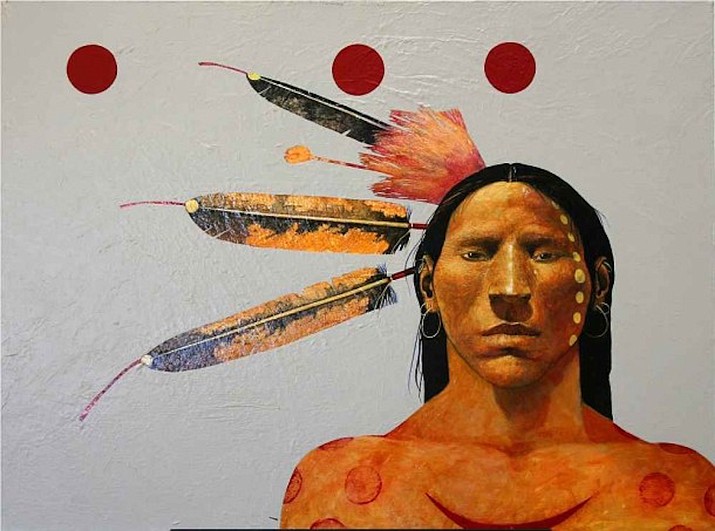 ---
---
On Friday, April 6th, Goldenstein Gallery kicks off a special spring edition of their acclaimed Cowboys and Indians Show. This popular show captures the pioneering spirit of the quintessential Native and Western cultures. This exhibition of the contemporary art of the iconic American West is recognized by NatGeo Tourism for its support in sustaining and enhancing the unique geographic character of the region. The public is invited to join them for a festive opening reception from 5 to 8 p.m.
Among the stars of this special show are Ben Wright known for his bold multi-layered Native American paintings, Ray Tigerman who paints impressionist depictions of Native figures, allegorical sculptor James Muir, David DeVary known for his "Cowboys & Cowgirls with Attitude," Carla Romero whose paintings are inspired by her great-grandmother's heritage of Acoma Pueblo, and Upton Ethelbah (Greyshoes) named 2009 Living Treasure by the Museum of Native American Arts and Culture, These artists offer an unprecedentedly broad range of stylistic interpretations of the West.
Join visiting artists Ben Wright and Ray Tigerman in the gallery for the opening reception on Friday from 5-8 p.m. For a complete listing please go to www.GoldensteinArt.com
While Ben Wright's paintings honor his Native American roots, they also portray a depth of emotion and sense of wisdom which is universal to all people.

Ray Tigerman's colorful impressionist paintings emerge through his understanding and depiction of the indigenous people in their dramatic environment.

Allegorical artist James Muir has completed over 100 sculptures to date, with over 60 life-size and monumental sculptures placed in public locations throughout the United States and abroad.
His newest piece, newly installed at the Chapel of the Holy Cross, is the iconic "Christ of the Holy Cross." Each element included in this sacred piece, which stands 33 feet tall, holds a special spiritual symbolism celebrating the Christ, his life and work.
Concurrent to the opening reception at Goldenstein Gallery for Cowboys and Indians, there will be a special public evening reception at the Chapel of the Holy Cross on Friday, on April 6 from 5 to 8 p.m. where the public can view the newly installed and monumental bronze sculpture "Christ of The Holy Cross" in its sacred space, meet James Muir and discuss this remarkable piece.
The public is invited to join these and other local artists at the opening reception for Cowboys and Indians on Friday, April 6, from 5 to 8p.m.