Camp Verde track collects PRs, qualifiers at Toro invite
Elizabeth Crofutt and junior Damian Wathogoma emerge as school's first official javelin record holders
Originally Published: April 5, 2018 2:05 p.m.
Camp Verde High track and field racked up some personal records and qualified some State among the stiff competition at the Toro Invitational.
The Cowboys competed at the Toro Invitational on Mar. 29 at Jesse Parker Field in Mesa. The meet was hosted by Mesa Mountain View.
"It went well," said Camp Verde head coach Mike O'Callaghan. "That was our first qualifying meet of the year, which was a bit later than a number of schools had done but it turned out well."
Other than Division II Prescott, all the other teams at the meet were Division I and had enrollments of at least 2,716, according to the AIA figures for the current alignments.
"So it was definitely good competition to run and compete against," O'Callaghan said. "Chris Holdgrafer had a good day. He won the 110 hurdles, which was nice to see because it just lets the team know that yeah, we may be from a small school but that doesn't mean we can't compete well."
Holdgrafer won the 110 meter hurdles with a time of 16.08, finished second in the 300m hurdles with a personal record of 43.77, was ninth in the long jump and was fourth in the triple jump.
"Overall we had a couple PRs," Holdgrafer said. "I didn't do as well as I wanted to, of course I was tired, but I did PR in the 300s, which I was proud of."
The other teams at the meet were Mesa Mountain View (3,355 enrollment), Mesa (3,464), Mesa Westwood (3,114), Phoenix Desert Vista (3,107), Mesa Desert Ridge (2,716) and Prescott (1,541). Camp Verde is Division IV and its enrollment is 442.
"It definitely helps the confidence, you want to push yourself to try and compete against such large schools," Holdgrafer said.
On the boys side, junior Joseph Jones tallied a PR in the 1600 meters, where he was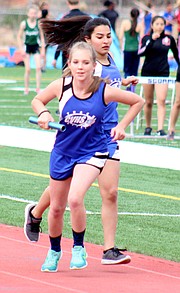 eighth. He was seventh in the 3200 with a season best 10:54.57.
Sophomore Benji Perez took 13th in the 800m with a PR time of 2:37.36.
Senior Mathew Wade was eighth in the discus with a season record 119-03.50. Freshman Noah Zimmermann was 10th in the triple jump with a PR of 107-07.50.
On the girls side, freshman Espi Perez was 11th in the 300m hurdles with a PR of 58.92 and freshman Brittany Punkoney was 16th in the discus was a PR of 69-06.
The meet also saw the first official school record holders for the javelin: sophomore Elizabeth Crofutt (55-09) and junior Damian Wathogoma (107-07.50). Crofutt took 14th and Wathogoma eighth in the new event.
"They're starting to have some success with it," O'Callaghan said.
Although other schools added javelin last year, Camp Verde started it this year when it became a scoring event at State.
The Cowboys got their javelins just before their meet at Alhambra on Mar. 7.
"They're not even a month into it," O'Callaghan said. "They're only about two weeks into throwing the javelin (laughs)."
In total, six of the seven throwers had personal records at the meet.
The Cowboys' next meet is the 2nd Annual Sentinel Invitational at Chandler Seton Catholic on Saturday. Their next local meet is the Mingus Invitational on Apr. 13 at 2:30 p.m.
O'Callaghan said overall the Cowboys are further along than expected, although there has been some mishaps along the way.
"There's a few kids a little bit ahead," O'Callaghan said. "There are a couple kids that I will say are behind where we thought they were but part of that's just injury, they did something goofy, like one of the kids was playing cat football with his dad and landed in a gopher hole and turned his ankle. That's not gonna help a whole lot."
More like this story
SUBMIT FEEDBACK
Click Below to: