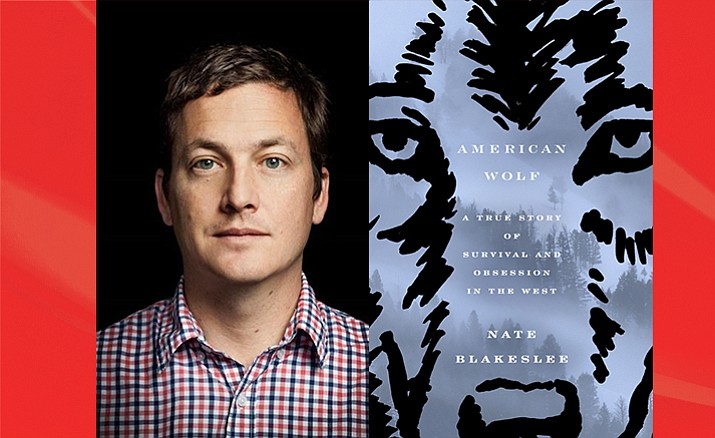 ---
---
The organizers of Sedona Wolf Week (SWW) have announcethat award-winning author Nate Blakeslee will be one of the speakers during this year's event. Back for its second year, April 17-21, SWW is a joint project of Plan B to Save Wolves and Apex Protection Project. Sedona Wolf Week's mission is to change the way people view wolves and to affect how the government develops policies regarding wolves while creating respect and protections for this essential apex predator.
In his new book, American Wolf: A True Story of Survival and Obsession in the West, Blakeslee vividly tells the story of O-Six, the beloved Yellowstone wolf who becomes the alpha female of a powerful pack. Revered by wolf watchers, she became a social media star, with followers around the world. Her tragic end, when she was shot to death by a trophy hunter, created international outcry similar to the death of Cecil the Lion in 2015. A riveting read, it was just announced that American Wolf is a finalist for the prestigious J. Anthony Lukas Book Prize. Days after Crown acquired the book, Leonardo DiCaprio's Appian Way Productions picked up the rights, with Scott Cooper (Black Mass) set to direct.
Once abundant in North America, wolves were hunted to near extinction in the lower 48 states by the 1920s. In the 1990's, as ecologists were able to bring these majestic creatures back to the Rockies, they ignited a battle over the very soul of the West. They, along with environmentalists and tourists, have clashed with ranchers and hunters over how predators and people should coexist.
When wolves were reintroduced to Yellowstone in 1995, there were profound ripple effects across the park's ecosystem. In what is called a "trophic cascade," the wolves' reintroduction helped lead the way to "an avian renaissance" in the park, increasing numbers of everything from rodents to pronghorn antelope. The whole ecosystem transformed itself into a state of renaissance that hadn't existed in centuries.
To create this epic tale, Blakeslee combed through thousands of pages of field notes gathered by dedicated wolf watchers. The book chronicles 0-Six's precarious life as a lone wolf, her search for a mate and the battle with another alpha female that eventually allows her own Lamar Canyon pack to claim choice territory in Yellowstone National Park.
Ultimately, the story of American Wolf is far larger in scope than the tale of O-Six. It explores the idea that the way we relate to wolves, or don't, is not just symbolic of how we relate to nature, it's symptomatic of what we will allow the construct that is nature to be.
The public has the opportunity to meet Blakeslee on Thursday, April 19. For a full schedule of events or to get tickets please visit www.SedonaWolf Week.org
Proceeds from Sedona Wolf Week are used to provide transport, rescue and lifesaving medical care to wolves, wolfdogs, sanctuaries, rescues and other wolf supporting organizations. Since 2016 over $75,000 has been donated to wolf-related causes through Sedona Wolf Week and the Plan B to Save Wolves Foundation. Current recipients include: Trap Free Montana, Wolves of the Rockies, Apex Protection Project, Keepers of the Wild, Villa Lobos Rescue, Heart of the Wolf, Grey Area, Grand Canyon Wolf Recovery Project, Wolf People, Oregon Rescue, and numerous individual wolf rescues.
Plan B to Save Wolves
The Plan B Foundation, Inc. is a 501(c)3 corporation created to support organizations in their mission to protect, preserve and rescue wolves and wolfdogs through advocacy, education and funding. To learn more, visit PlanB.Foundation or call 714.478.0353.
Apex Protection Project
Apex Protection Project, Inc. is a 501(c)3 organization dedicated to protecting wolves and wolf dogs through educational experiences, rescue and advocacy with the dream of living in a world where the wolf and all species are highly valued, protected and respected for the balance they bring to the ecosystem and for the gifts they offer humanity. To learn more, visit ApexProtectionProject.org