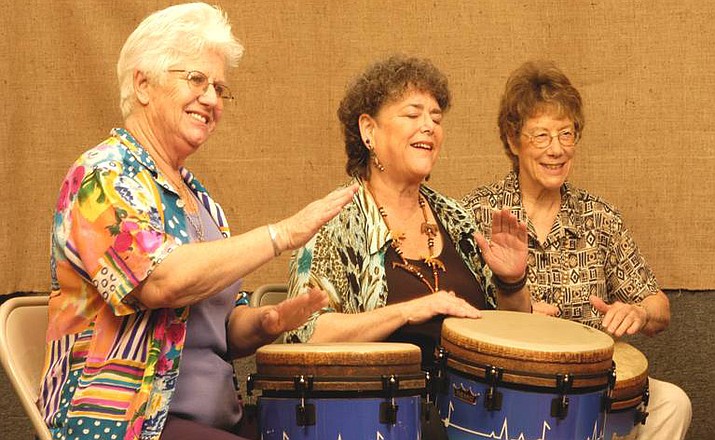 ---
---
If You Go ...
• What: Drum For Water: A Community Drum Circle Benefit
• When: Saturday, April 14 10:30 a.m. to 11:30 a.m.
• Where: The Sedona Community Center
• How Much: $5 at the door max of $20 per family
• More Info: Visit Chairity Water at Charitywater.org
Heart Song Drumming of Cottonwood will present "Drum For Water: A Community Drum Circle", as a fundraiser for Charity Water on Saturday, April 14th from 10:30-11:30 a.m. at The Sedona Community Center. This is Family Focused and all ages are welcome. No prior music or drumming experience is needed. Everyone will have a percussion instrument to play. African Drums, Native American Drums, and other percussion will be provided. Bring your own, if you'd like.
In this highly interactive drumming program, the group will be guided through a variety of fun and engaging rhythm games that are sure to connect everyone at heart, bring smiles, inspire creativity and a feeling of community.
Heart Song Drumming is proud to host this benefit for Charity Water. Presently, one out of 10 persons (over 600 million) on the planet do not have clean and safe drinking water. To date, Charity Water, through partnership with organizations around the world, has successfully provided clean drinking water to over 7 million people. Their projects are community owned. Every penny donated to Charity Water goes directly to fund water projects, as all administrative and operating expenses are paid for by philanthropists.
This event is $5 per person at the door, with a maximum of $20.00 per family. Donations of larger amounts are most welcome.
Please arrive by 10:15 for a prompt 10:30 a.m. start. Children under 8 years old must be accompanied by an adult.
For more information about Charity Water, please visit Charitywater.org. To learn more about Heart Song Drumming and this Community Drumming event, please visit LansingDay.net
Text for "Things to Do" for Saturday the 14th of April
Drum for Water: A Community Drum Circle Benefit, facilitated by Heart Song Drumming of Cottonwood, will be held at The Sedona Community Center from 10:30 a.m. -11:30 a.m. This event benefits Charity Water (charitywater.org). Families and all ages are welcome. Percussion provided. No music experience needed. $5 at the door; max of $20 per family. For more information please visit Heart Song Drumming at www.lansingday.net