Adam-12 Code Five: Police dispatch is your lifeline to emergency help

By
Halie Chavez
|
@haliephoto
Originally Published: April 10, 2018 2:13 p.m.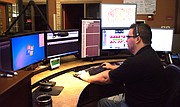 COTTONWOOD – It was around 8 in the morning when the Cottonwood Communications Center received a call from a local woman.
"911, what is the address of your emergency?" Jeremy Miller, a communications specialist, asks the woman. This is always the first question he asks – that way, if no other information is given by the caller, help can still be sent. Miller has worked at the communications center for three years.
As he gathers information from the woman and inputs it into the communications software, another operator dispatches emergency services to her home in Cottonwood on their computer.
Miller stays on the line after the woman tells him she's suicidal. She explains to Miller she lost her son a few years before. He talks with her and finds out she has a Spectrum Healthcare professional she works with. He begins to contact them as well.
Miller assures the woman help is on the way and not to move.
With most calls, an operator will disconnect with the caller after emergency services are on the way. But in some cases, where the situation seems unstable, staying on the call the entirety of the time until police and medical arrive is critical, Miller explained.
The Gold Glue
The Communications Center has a constant need for dispatchers. A sign hangs at the Cottonwood Recreation Center in recruitment of new communications specialists.
Marie Carpenter, the Communication Center manager, said turnover is high, but that's normal for the job. Training a specialist takes six months. Testing analyzes decision making, memory recall, map reading and reading comprehension skills.
"Sometimes people do great during the testing phase and don't do as well when it comes to taking calls," Carpenter said.
Calls can be disturbing, she explained. The center has a designated quiet room with a comfortable sofa-chair for decompression after such calls. Sometimes, after a 12-hour shift, an operator that lives 20 miles away in Camp Verde may get some sleep in a chair before the drive home.
There's also a kitchen where operators can make their meals throughout the long shift. Currently, the center is understaffed, requiring operators to work four 12-hour shifts a week. Ideally, shifts are eight hours long.
The team works together to take calls (Phase 1) while another specialist does the process of dispatching (Phase 2). The phrase "tell me exactly what happened," has been proven to be the most successful in yielding information from callers.
Mass-casualty situations
A mass-casualty situation occurs when emergency resources are overwhelmed by injured people in a short span of time.
The Communications Center has practiced drills in case of a mass-casualty situation in the Verde Valley. Before the Sedona Marathon began, dispatchers practiced calling other departments for assistance.
"We actually call down to Phoenix and find out what it's going to take to get five ambulances up here ASAP. We need to know," Carpenter said. "If we had a Boston Marathon-type event here -- we hope not -- but we have to talk about these things. We can't think, 'Oh that'll never happen here,' it can happen anywhere."
Mass-casualty situations are often associated with terrorist attacks or natural disasters, but active assailants such as school shooters are also mass-casualty situations.
Carpenter has seen a shift in the way emergency services respond to active shooters across the country throughout her 15-year career.
"This is a whole other animal," Carpenter said.
According to Carpenter, officers no longer have the time to stage and mobilize, instead they go straight in to stop the assailant. Emergency medical services must go into "warm zones," areas not yet cleared as safe, to start treating injured on the scene and removing them.
The Communications Center has practiced drills is response to an active assailant scenario at Mingus Union High School, American Heritage Academy, Cottonwood Middle School, as well as the Cottonwood Recreation Center and outlet malls.
"Every time they happen, there are new lessons learned from each one of them … [An active assailant situation] is not going to be a Cottonwood PD issue, it's going to be a regional issue. We'll need YCSO, Sedona PD, Cottonwood fire, park rangers, DPS rangers, everybody," Carpenter said.
The protocol for taking an active assailant call can be challenging for operators. The situations usually have multiple callers who are mostly using cell phones, making it harder to place exactly where they are.
Carpenter said it is also emotionally difficult for dispatchers to disconnect with someone who is injured or trapped to take other calls.
"The thing about it, is we're not going to be able to go through all the questions with every single caller, because we have to get down to that call that can give us exactly what we need … so we can get that information to officers," Carpenter said.
The Cottonwood Center's directional protocol for someone calling about an active shooter is not unlike the rest of the country: help is on the way, stay quiet and out of sight, run if you can – and fight for your life if necessary.
"I will be happy if we never have to deal with this one in our life. But we can't stick our heads in the sand and pretend it could never happen," Carpenter said.

More like this story
SUBMIT FEEDBACK
Click Below to: