Camp Verde track and field battles wind at Mingus invite, gets PRs
Originally Published: April 14, 2018 2:33 p.m.
Camp Verde track and field racked up a handful of personal records on Friday in Cottonwood.
The Cowboys returned to action at the Mingus Invitational.
Camp Verde head coach Mike O'Callaghan said the meet was a mix of good and bad for the Cowboys.
"We had some people that it just wasn't their day, which happens, we had some really nice performances though," O'Callaghan said.
Sophomore Alondra Fowler won the 1600 meters, establishing a personal record and also getting a PR in the 800.
Junior Eliana Paniagua ran well in the 4x400 meter relay.
"Eli ran a super leg in the 4x4, she was pretty much by herself and ran close to her best time ever, essentially on her own because we were back," O'Callaghan said. "That is great."
Freshman Brittany Punkoney and sophomore Raymundo Rodriguez achieved PRs in the shot put.
Sophomore Anna Johnson set a personal record in the 800 by about 15 seconds.
"That's a nice jump to take, it really is," O'Callaghan said.
Sophomore Ty Holman also shattered his previous personal best in the 800, getting a PR by 30 to 35 seconds.
"I mean he really, really ran well in that (Friday)," O'Callaghan said. "He really put out a good effort."
Photo Gallery
Mingus Invitational 041318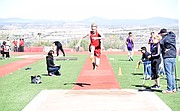 Mingus Union track and field hosted the Mingus Invitational on Friday. (VVN/James Kelley)
The boys 4x800 relay achieved the provisional mark. It was the first time the Cowboys ran a 4x800 team at a qualifying meet.
"That time should drop because running like they did on a windy day like this is probably worth eight to 10 seconds," O'Callaghan said.
The wind was noticeable for most of the afternoon and into the early evening.
O'Callaghan said the wind was a big factor, especially in races that were 400 meters or longer.
"When you went down that backstretch and around that turn in that wind, I was just walking it and you could tell it was gonna hurt, it was gonna hurt," O'Callaghan said.
Junior Chris Holdgrafer won the 110 meter hurdles, took second in 300m hurdles and third in long jump.
"He had a pretty good all around day," O'Callaghan said.
O'Callaghan said much of the team is doing well as the season winds down.
"They're doing pretty well, a couple of them not quite as well," O'Callaghan said on Friday. "Today is not a good indicator, just cuz of all the wind, it's hard to tell, but I think next week Fountain Hills we're anticipating better weather."
On Friday the Cowboys head to the Fountain Hills Friday Night Fever Invitational and then on Apr. 24 they go to the Red Rock Invitational in Sedona.
"I think between those two meets we should get several more people qualified for State," O'Callaghan said.
More like this story
SUBMIT FEEDBACK
Click Below to: