Group begins petitioning for school consolidation
Grass roots effort works under assumption senate bill will pass

Originally Published: April 14, 2018 2:17 p.m.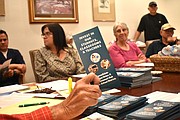 COTTONWOOD -- The future of school district consolidation between Cottonwood-Oak Creek and Mingus Union could rest in the hands of a local grass roots group — that is, if all goes according to plan.
As the Advisory Committee for Consolidation continues to weigh the implications of a consolidated district, efforts to solicit signatures to put the issue on the ballot this November have been launched.
Cottonwood rancher and former Mingus Union board member Andy Groseta is leading this effort alongside Jerry Brown and Phil Terbell.
"We aren't trying to sell [consolidation]," said Terbell during a meeting Thursday with petitioners. "We just want the public to be educated on the issue."
C-OC District Board President JoAnn Cook and C-OC board member Jason Finger were also at the meeting. Last December, the C-OC board voted to endorse the merger between the two districts. Board members on the Mingus side have not been so eager, citing lack of information and not being certain if consolidation is best for students and teachers.
But Groseta said he sees the efforts of getting the issue on the ballot as a "voter empowerment effort."
Right now, the petitions being circulated are based on language of a Senate Bill that passed Arizona's House Appropriations Committee last month.
If passed, SB 1254 would allow for a common district to be consolidated into a larger district. Meaning, C-OC could be absorbed into the existing Mingus boundaries. This would also leave Clarkdale-Jerome School District unaffected in a potential merger. A major concern brought up in consolidation talks is Clarkdale-Jerome voters having to pay tuition to send their children to the newly merged district.
If the bill fails to pass, the petition effort will become null and void.
Groseta said he will continue to work under the assumption that the bill will pass, however.
"We are going to get it done," he said. "This is about informing voters. It's not Verde Valley specific and will apply to the whole state."
Terbell said as a member of the community, he felt compelled to do something for it.
"This is not about changing schools," he said. "We just want to see, 'hey, can we do it a better way?'"
Petition requirements
The grass roots effort to get consolidation on the ballot will take more than just gathering signatures, according to Groseta, who outlined the statutory regulations of petitioning during Thursday's meeting.
According to State law, circulators must be residents of Arizona. It is also crucial that only voters in the Mingus Union district sign the petition. C-OC is within the boundaries of Mingus Union.
Signers of the petitions must also fill out every column, including printing their name, signature, address information and date.
Other stipulations include:
No post office boxes. Signers must provide a street address.
Circulators must be present when each signer fills out the petition.
No one may circulate a petition for a circulator to get signatures.
For more information on consolidation efforts, visit their Facebook page at www.facebook.com/Consolidate-Mingus-Union-Cottonwood-Oak-Creek-School-Districts-164410507600940/ or email Andy Groseta at wdartranch@qwestoffice.net.
-- Follow Kelcie Grega on Twitter @KelcieGrega
More like this story
SUBMIT FEEDBACK
Click Below to: