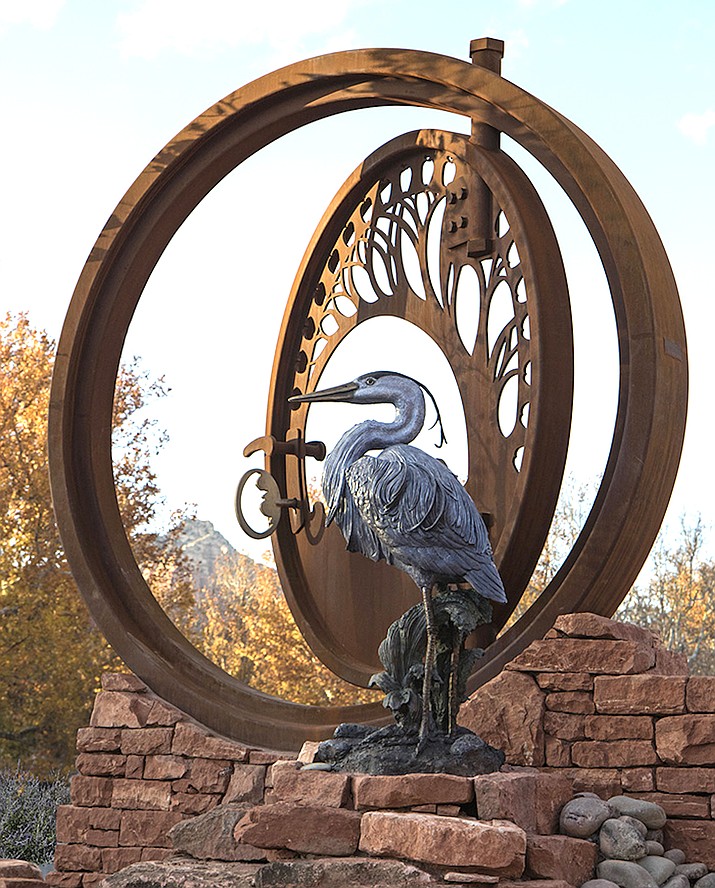 ---
---
Just in time for the spring season Goldenstein Gallery is bringing back it's popular series Artists Coffee Talks in the Gallery. Often when someone engages with their favorite artists it's in a busy setting such as a reception or other public event.
They walk away yearning for more of a personal connection, finding themselves wishing that they could just sit with them, enjoy a cup of coffee and get to know the artist and art better. They could learn what inspires the artist and about individual art pieces. Facilitating this type of personal connection is the inspiration behind Goldenstein Gallery's popular series Artists Coffee Talks. Curated by Linda Goldenstein, this exciting series kicks off on Saturday, April 21 at 9:30 a.m. with artists Karyl Bennett and Reagan Word as part of a five-part series this season. On April 21, 28, May 5, 12 and June 2, you are invited to meet and enjoy Coffee Talk with different artists at Goldenstein Gallery.

"An artist's work is always evolving. Each new piece is a living reflection metaphorically of the artist themselves," muses Linda Goldenstein "When someone gazes upon a piece of art and has a visceral response, they are experiencing a connection with that artist. One of the driving beliefs behind my gallery is that art, and that connection, has the power to change peoples lives for the better. Our mission is Life Enhancement through Art."
It is because of core values like these that Goldenstein Gallery has consistently championed opportunities to create a life-enhancing experience…bringing artist and collector together. To Goldenstein, the spirit of collaboration connects everything from the experience that artists and collectors have to the gallery's reach throughout Sedona.
Artists Coffee Talks takes this to a new level. On the designated Saturday mornings at 9:30 a.m., beginning April 21 and running through June 2, the public is invited to Goldenstein Gallery to enjoy a lively conversation over coffee or tea with diverse artists who work in a variety of mediums. Artists participating include both visiting and local artists; Kevin McCarthy, Patricia Griffin, Sherab Khandro, Reagan Word, Ali Mignonne, Karyl Bennett, Marilyn Bos, JA Gorman, and Adele Seronde are slated.
This Saturday the series opens with renowned mixed media painter Karyl Bennett and painter and sculptor Reagan Word.
Karyl Bennett says of her art, "Our humanity is found in our compassion for others and our willingness to engage in life, not just to float on the surface. My wish is that you stand before my paintings and ask questions, not have all the answers with a quick glance." Her work is reflective of that desire using a technique and medium developed from years of experience. Perfecting a method to capture her emotions, she reverses paints with inks and metals on Plexiglas, which results in rich luminosity, depth, and sense of movement.
Locals and visitors alike are captivated by Reagan Word's stunning piece "The Open Gate" which stands in the Roundabout at Schnebly Hill Rd. For years he was known for his exquisite 3-D renderings for architects and notes that this work ultimately taught him to push the boundaries of his imagination. Working as a sculptor and a painter, he says of his work "My calling is to make visible ideas that inspire and motivate others to look at the beauty of not only this creation but venture beyond and imagine what is yet to be."

The following weekend, April 28, will be artists Sherab Khandro and Marilyn Bos.

Find a complete schedule of Artists Coffee Talk speakers at GoldensteinArt.com.
For more information on their artists, artwork, Artists in Residence and events please visit GoldensteinArt.com. Sign up for their monthly E-zine, Instagram and Facebook or call 928-204-1765. Open daily, Goldenstein Gallery's address is 150 State Route 179, at the corner of SR179 and 89A. Voted Best Gallery in Sedona 10 years running and recently named the best place to shop in Sedona by USA Today 10 Best, Goldenstein Gallery is known for its diversity of world-renowned local and regional artists in all media and styles.