Former CV wrestling superstar Uhler takes up MMA
Originally Published: April 19, 2018 4:09 p.m.
Camp Verde High alumnus and four-time wrestling state champion Hayden Uhler knew exactly what his nickname would be for his new sport.
Uhler chose "The New Breed" as his fight name for his new MMA career, a homage to Mario Chagolla Sr.'s New Breed Wrestling program in Camp Verde.
"Wrestling is where I began obviously," Uhler said. "They had the summer program which is called The New Breed and they had Weekend Wards every other Saturday I always turned to New Breed Wrestling, that's where I started, that's where I got good. I honestly don't think the school season is where all my technique and my training came in, it was all during the summer during New Breed, so that's when I was like 'okay New Breed is basically what founded me and everything, so Hayden 'The New Breed,'' I thought it was pretty cool."
The Camp Verde wrestling coaches went to his first MMA fight in Payson and sat in the front row.
"At the beginning I said 'remember where you came from' I said 'money's gonna change you, if you hit the UFC and you got millions of dollars in your hand,'" said trainer Richard Williams. "I'm just trying to tell him to remember where you came from, so he thought up his own name and he said 'Hayden 'The New Breed' Uhler and that's where he started, with The New Breed wrestling program. So it kinda touched my heart. He did it himself."
Uhler will fight again on Saturday night in Payson at the Tonto Apache Rec. Center.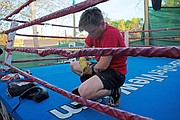 He's hoping for another quick victory.
"It was a first round finish, I tapped him out in the first round but I'm looking for a knock out this fight hopefully," Uhler said.
Williams, who has trained champions for years and was also a promoter and fighter, said he thinks Uhler has the potential to make it to UFC.
"I really think he has the talent to get to the UFC," Williams said. "He throws spinning kicks, Bruce Lee kicks, he can do jumping knees, he does elbows, he can kick to the head, this is within six months that I've been training him, that's how gifted this guy is. That kind of training would probably take a normal person a year, a year and a half. He's already got it down in six months, like that and I think he's got the will power. He already knows how to win, so it's a win/win situation He knows the mat, I know the upstairs."
The plan is for Uhler to build up his record and experience before moving to fights in Phoenix and the professional ranks, possibly by the end of the year.
"It's like 50/50 nowadays, there's a lot of strikers in UFC and there's a lot of jujitsu and guys that just want to get on the ground and roll," Williams said. "So he's done it all his life, I'm pretty confident about his movement on the mat but now, like I say, he's a loaded gun He learns quick."
Uhler went 167-2 in high school wrestling, going undefeated his sophomore, junior and senior seasons.
"I like it, I like it more because it gives me more motivation, it gives me more something to move forward to, you know what I mean?" Uhler said. "Because wrestling it was always just a win for me and I got so good at it that I would always win and it was just no fun, there was nothing to look forward to It's something new and I love it, I love the sport."
He said he always to get into the sport after idolizing MMA fighters growing up.
"I wanted to wrestle in college and I could have, I had plenty of scholarships and most of them were full ride, but I didn't want to take them because I kinda wanted to chill out and stay at home with family for a little while and I don't know, I kinda burnt out from wrestling because I've been wrestling since the third grade, so I wanted to try this out, got into this and I'm still going to end up going to school, I'm just not wrestling in college," Uhler said.
Williams said Uhler's wrestling experience has helped him a lot.
"He's doing great," Williams said. "He's just a natural athlete, it's easy. Once athletes come to me it's so easy to train them in the ring He's just got natural talent."
Uhler started in the sport about a year ago after his high school wrestling career ended.
However, his brother Korben, a sophomore at Camp Verde, is starting to get into it.
"I think Korben's got a lot of talent too," Williams said.
Korben has already followed in his brother's footsteps with two state championships in two years on the wrestling mat.
"It's cool, I feel like the Diaz brothers in the UFC when I do this with him," Uhler said.
More like this story
SUBMIT FEEDBACK
Click Below to: