Cowboy softball clinches region with walk off win
Originally Published: April 21, 2018 1:36 p.m.
Camp Verde High softball rallied to clinch the region championship on Friday with a walk-off win.
The No. 2 Cowboys beat No. 6 Surprise Paradise Honors 5-4 at home, sweeping the season series and repeating as 2A Central champions.
"It was good, I like those kinds of games, they're exciting," said freshman infielder Jenna Huey. "I wish we could've started off hitting better in the first half but came together as a team in the end, that's all that matters. We're family and we're together as a team."
Last season, Camp Verde and Paradise Honors tied for the region championship after they split the season series. CV won the tiebreaker due to their better conference record.
"We've matched up with them well for the last two years," said CV head coach Henry Smith. "It's always been, always been a tough game against them. I like his coaching, they have some really good players and we knew from the very beginning that it was going to come down to this game and the end of the day we're all playing for a state title and a game like this is perfect going into the tournament. We were both tested, we ended up winners score wise but I think we both came out as far as who's getting prepared for the tournament, we both did. We both played a great game."
Huey tied the game up with an RBI double in the bottom of the fifth and then got the walk-off RBI in the bottom of the seventh. She went 4-for-4.
After the game, the CV coaches named her player of the game.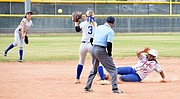 "Jenna is our true team leader," Henry Smith said. "As a freshman, you can't say that very often and when you talk about Jenna Huey, she's an elite ballplayer, she's on a whole nother level and honestly it's just an honor to be able to have her on our team and have somebody that everybody can look up to. As a freshman the whole team looks up to her as a leader, so she's an amazing player, she's an amazing kid and you couldn't ask for a better teammate than Jenna."
Huey had the most hits in the game. The next closest was sophomore Jacy Finley with two.
"It's cool as a freshman especially being part of this team is awesome and they've all accepted me in, I love it," Huey said about winning the region title.
Camp Verde jumped ahead 3-0 after two innings but in their half of the third, the Panthers scored two. Then they took the lead in the fifth off of a two-run home run.
The Cowboys outhit the Panthers 9-7 and each team had two errors.
Senior catcher Jade Oium drove in two runs. Freshman utility player Cassandra Casillas scored two runs.
"I think we're doing good," Huey said. "I hope we keep doing good and we will, we practice hard, we put a lot of work into this game and we're all in it."
On Thursday, the Cowboys beat 3A No. 6 Payson 4-2 on the road in eight innings. Camp Verde also beat Curtis Johnson's Longhorns at the Gracie Lee Haught Classic in Payson in March.
"The Payson game was a really good one as well," Henry Smith said. "We talked about that when the schedule came out, that Payson was going to be tough, Paradise Honors was going to be tough, we knew this and we prepared the girls all season, 'Both teams are going to bring it' and Curtis needed the win, we needed the win and it was classic battle between Cowboys and the Longhorns. Both have similar coaching styles so when we butt heads, we stay locked until the end of the game and that's what happened. Somebody has to come on the advantage on the scoreboard and fortunately, we did. So it's been a good run for all these girls and they're learning a ton, that's more or less what I'm excited about, is how much they've matured throughout the season."
After the Payson win, the Cowboys moved up to No. 2 in the rankings, meaning they could avoid playing No. 1 and undefeated Benson until the state championship game.
"They're actually very big (Thursday) was a very big win for us and (Friday) today definitely was a big game," said junior infielder Tyra Smith. "It definitely helps us because then we can face Benson hopefully in the championship game and that'll be a better chance."
More like this story
SUBMIT FEEDBACK
Click Below to: