Youthful Camp Verde baseball takes over first place
Originally Published: April 21, 2018 1:43 p.m.
Camp Verde High baseball scored two runs in the bottom of the seventh against Surprise Paradise Honors to earn a shot at the region championship in dramatic fashion.
The No. 17 Cowboys beat then No. 15 Surprise Paradise Honors 7-6 in their final home game on Friday, snapping their two-game losing skid.
The senior-less Cowboys will win the 2A Central championship with a win in the season finale on Tuesday at No. 16 Flagstaff Northland Prep.
"We're growing all the time, we're still young, as you've seen certain times, the other team will get a big inning and we start quitting," said CV head coach Will Davis. "(Friday) they just stayed with it, kept fighting and it paid off for them."
Trailing 6-5, Camp Verde got on the board when junior utility player Dominiq Bruno scored after the Panthers' pickoff attempt failed and their throw to third base was too high and Bruno ran home.
The Cowboys got the walk-off win when freshman infielder/outfielder Peyton Kelley got on base and sophomore utility player Coke Bast ran
home after the PH first baseman dropped the ball.
"Oh it's so exciting because if we lost this game we'd have no chance at State, but now if we beat Northland then we're in State, so it was a big game," said freshman infielder/outfielder Mason Rayburn.
With the win, Camp Verde moved into first place in the region with a 5-2 record. After they lost to No. 21 Sedona Red Rock and No. 10 Scottsdale Christian, both at home, the Cowboys slid out of the top 16.
If they win the region they get an automatic berth to the state tournament. Paradise Honors' region record sits at 5-3 and Northland Prep is 4-3. If NPA beats Camp Verde, then there would be a three-way tie, which would not favor the Cowboys.
"We beat Northland we're region champions, locked in the playoffs, so it was that big," Davis said. "If they won (Friday) then they were region champions and locked in, so we still gotta beat Northland, they're done for the year so there's nothing they can do rankings wise. I don't think it's really going to do much, we've been sitting around that 15 to 17 spot all year and I think we're still going to be sitting there. I think they were 15 coming in, so if we get to 15, 16 from where we were (Friday), 18 or something, that's probably all that will happen ranking wise. But win the region, that's what it's about."
Since the eight region champions receive automatic bids and it's likely that not all of them will be in the top 16, Camp Verde likely needs to win the region or make it to No. 14 or 15 to make the state tournament.
The last at the bat against Paradise Honors was almost the opposite of what happened in Camp Verde's loss at PH.
"It was great, these guys needed something like that because we've had too many of these kinds of losses this year," Davis said. "They beat us just like that and their house, where literally we walked the guy on and the next guy came on and hit a bloop and they scored from second and won the game, so yeah they needed that."
The Panthers jumped out to a 2-0 lead before Camp Verde took the lead in the bottom of the second with four runs, included a triple with the bases loaded by Bruno. Then CV scored another run in the third.
Paradise Honors answered with a run in the fourth and then three in the fifth before Camp Verde plated the last two.
"It's so good cuz like we come up there and I think we only lost one game and we were on like a winning high, so everybody thought we were going to win and then we lost and then they were on a winning high and they came down here and lost," Rayburn said. "It was kinda just big revenge, it felt really good."
After the loss at Paradise Honors, the Cowboys went 3-3 in their next six games.
The comeback win could help the psyche of the young Cowboys.
"Yeah it's going to boost their confidence a lot," Bruno said about the effect the win could have on his younger teammates. "I feel like we're gonna come out on Northland ready play and we're gonna be ready."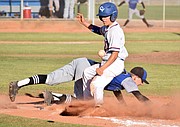 Rayburn went 3-for-3, with a double and two runs. Junior Dawson McCune also was 3-for-3, with one run.
Bruno pitched a complete game, giving up three earned runs and striking out five.
Even though the Cowboys lost 10 seniors from last year's team, they have the chance to repeat as region champions.
"It's really exciting, all of us thought we were only going to win like two games and those were the easiest teams, but we all made it farther than we ever thought," Rayburn said. "So it's really cool to be here."
CV beat Northland Prep 10-0 in five innings in the game at Camp Verde this year. The Cowboys edged NPA for the region title last year.
"Honestly at the beginning of the year I'd have been really happy with a .500 team and I'd have been really happy with a team that just went out-competed and played hard; regardless of record or score," Davis said.
More like this story
SUBMIT FEEDBACK
Click Below to: