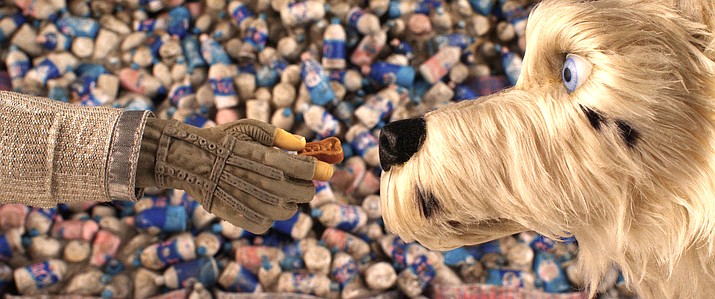 ---
---
Isle of Dogs takes place in Japan in the future. The central location is Megasaki, a seaside city dominated by a not-nice mayor. There was a recent epidemic of canine flu among the many dogs in the city and it gave the mayor, a dog hater, an excuse to banish all dogs from the city.
The order was to transport them to a nearby island, which is used as a repository for all the garbage produced in the city. The island is called Trash Island.
The large population of dogs on the island must scrounge for food amid the mountains of garbage and trash. One of the dogs, just recently exiled to the island is a terrier named Spots. His owner is a young boy named Atari. Atari goes to the island (in an airplane he flies) to find his beloved companion. He meets and befriends a group of dogs who briefly knew Spots and they want to help Atari find him.
Isle of Dogs is an animated film using Japanese as the basic language. All the posters and written material in the film are in Japanese, always translated on screen. The dogs speak in English, but most of the people speak Japanese, with translations when needed.
Joining Atari's group is a dog, Chief, who has a rough appearance and personality. We find out that he was not a pet with a home, but he spent his life as a stray. Chief gradually becomes friendly with the others in the group and especially to Atari.
We find out more about Chief's background that makes him more likeable. There is an interesting part of the story when we, and Atari's team, meet a couple of resident female dogs, who are gentle and glamorous.
The mission of Atari and his group of five dogs is to find and rescue Spots, but that coincides with a movement by many city folks to get all the dogs back to their homes. That movement is being strongly opposed by the mayor.
The visual experience in Isle of Dogs is spectacular throughout. The animation is fine enough to make us forget that these dogs (aside from speaking English) are not real.
There is an extensive list of known players voicing the roles. Bryan Cranston as Chief, Edward Norton, Bob Balaban, Bill Murray, Jeff Goldblum, Greta Gerwig, Scarlett Johansson, Harvey Keitel, F. Murray Abraham and a list of Japanese actors fill the roster perfectly.
The story in Isle of Dogs is interesting and satisfying in the end. There are no scenes of cruelty to dogs and many humorous spots. Isle of Dogs is rated PG-13 which seems appropriate.
Isle of Dogs is at Harkins Sedona 6 Theater.