Mingus Union drama troupe to perform Gershwin's 'Crazy for You'
By
Bill Helm
|
BillHelm42
Originally Published: April 24, 2018 10:23 a.m.
COTTONWOOD – You know you're a baby boomer when you hear the phrase 'crazy for you' and think of Madonna.
Fear not, lovers of the classics. "Crazy for You" is a 1990s musical comedy inspired by the music of Ira and George Gershwin.
"Crazy for You" is also the season-finale for the Mingus Union High School drama program, A Troupe of Ridiculous Thespians.
Known affectionately as A.T.O.R.T., the troupe is planning dress rehearsals April 10-12 as it prepares for performances scheduled the third and fourth weekends in April.
The story
Written by Ken Ludwig as a book, "Crazy for You" is the story of love, the love of a man on Wall Street and a woman on Main Street as they fall madly in love, put on a show, and dance their way to happiness.
Crazy for You featuring several Gershwin classics, including "Embraceable You," "I Got Rhythm," "Slap That Bass" and "Someone To Watch Over Me."
With a cast of 34, a crew of 50 and a live 24-piece orchestra, A.T.O.R.T. has been on their toes, tap dancing since August to prepare for "Crazy for You," says James Ball, Choir and Theatre Director at Mingus Union High School.
At its heart, "Crazy for You" is a "raucous musical tale about the power art has to bring life to a community and purpose to its people," according to Susan Stroman, the choreographer of the original 1992 production that was a Tony Award Winning show for Best Musical, Best Choreography, and Best Costume Design.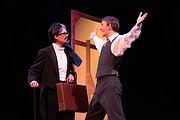 The production
"Crazy for You" will be directed and produced by Ball and assistant director Ashly Lawler.
Jeff Neugebauer and his technical theatre classes will be in charge of the show's technical direction and design, with Carla and Stephen Renard, and Angelica Alcala handling the original choreography.
Because of innuendos and fight scenes, "Crazy For You" is rated PG.
For more information, call the Mingus Union box office at 928-649-4466 or e-mail director James Ball at jball@muhs.com.
This is the final weekend A.T.O.R.T will perform "Crazy for You" at the Mingus Union High School auditorium, located at 1801 E. Fir St. in Cottonwood.
Show times are 7 p.m. Friday, April 27, 7 p.m. Saturday, April 28, and 3 p.m. Sunday, April 29.
Tickets are on sale at www.showtix4u.com or visit the Mingus Union High School bookstore on campus. Or call the school's box office at 928-649-4466.
Advanced ticket prices are as follows: $12 for adults, $11 for seniors, $8 for students and children.
All tickets $3 more at the door.
SUBMIT FEEDBACK
Click Below to:
More like this story