School is out, but teachers are still rallying
Verde Valley parents respond to school closures amid Red for Ed movement

Originally Published: April 25, 2018 10:40 p.m.
COTTONWOOD -- Trecia Taylor and her son Max stand near the intersection of State Route 89A and 260 in Cottonwood. It's rush hour.
Taylor raises a #RedForEd sign above her head as cars honk in support. Max, in a red polo, twirls a white streamer and kicks up some dirt at the edge of the sidewalk.
Photo Gallery
Cottonwood Red For Ed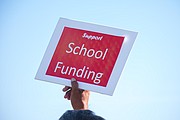 On Wednesday evening, Verde Valley teachers protested once again to rally for public education funding. On Thursday, schools across the Verde Valley and Arizona will be closed amidst a statewide teacher walkout.
The Arizona Republic reports that 840,000 of the state's 1.1 million public schools students will be affected by closures.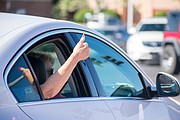 But Taylor said there needs to be some sacrifices for the greater good.
"This is about schools for generations to come," she said.
A single mother and a Spanish teacher at Mingus Union, Taylor said she has to work another job to support herself and her family. She said it is tough for not just her, but also her students.
"My students need to be given the attention they deserve," she said. Taylor said she and her son will also be marching at the Arizona State Capitol on Thursday.
Earlier this month, Arizona Gov. Doug Ducey proposed a 20 percent pay increase for teachers to deter threats of a walkout. Last week, he even vetoed legislation brought to his desk, angering members of his own Republican party.
"Please send me a budget that gives teachers a 20 percent pay raise by 2020 and restores additional (school district) assistance," he wrote in a veto message.
Despite Ducey's proposal, threats of a walkout remained eminent which consequently lead to school closures. Some, like Cottonwood-Oak Creek, won't be open again until Monday.
The movement isn't just about raises for teachers, said protesters at the rally on Wednesday.
"This is about support staff as well," said Mountain View Preparatory teacher Brenda Stokes. "Most still get minimum wage and teachers are quitting because they're not getting enough support."
Stokes said she has been getting a mixed response from parents in the community amid school closings.
"We have some of the same concerns," she said. "But we feel it's about the quality of education for kids."
Jason Finger is a parent of three as well as a Cottonwood-Oak Creek school board member. He said that while he supports teachers standing up for a long overdue reimbursement, he is concerned about the missed days of school.
"Unfortunately, I think 1 to 2 days off with a return to school on Monday equates to more of a bark than a bite," he wrote in a statement to The Verde Independent. "As a parent of 3 in school, we will make it through the next few days fine. But, I am very strongly against shortening an already short summer break by extending the school calendar for a political reason versus a natural disaster or similar event."
Others fully support of teachers.
Brittany-Skye Wilson has a four-year-old in the Dr Daniel Bright preschool program. She said the school closures don't affect her family anyway because they will be at a wedding but she wouldn't send her child to school anyway to show support.
"They are worth it," she said. "Just like they are worth it to our children. My child is worth it."
Ruth Ellen of Cottonwood was at the rally on Wednesday to support teachers. Ellen is a parent and said she is supportive of education as a whole as well as the movement.
"It's a long overdue sacrifice," she said. "One day off from education is worth it. Our education system is at the bottom. We have to do something to encourage folks to come here."
--Follow Kelcie Grega on Twitter @KelcieGrega
More like this story
SUBMIT FEEDBACK
Click Below to: