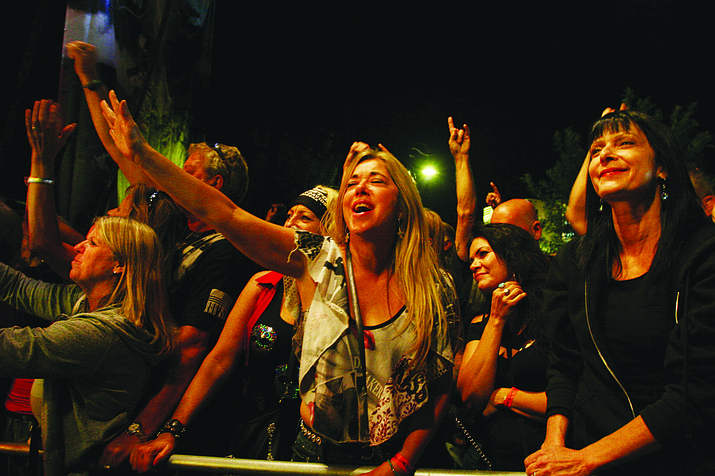 Originally Published: April 28, 2018 1:49 p.m.
The City of Cottonwood has announced its bands for this September's Thunder Valley Rally.
Blues sensation Jonny Lang will headline on Friday night and Blackfoot with Rickey Medlocke of Lynyrd Skynyrd fame on Saturday night.
TRV Committee Member Terry Payne said they have been working hard to choose the right bands that were available for this year's event, slated for Sept. 14-15.
Only two bands are booked "for sure," right now, he said. There are still eight more bands to select.
There won't be any music in Old Town for the first time. This is quite an evolution from the early days of Thunder Valley Rally when Leon Russell and George Thorogood shook the buildings in Old Town.
Over the history of the event, Old Town merchants have complained about shutting down Main Street in Old Town for the motorcycles and the music. So the stage was moved to Riverfront Park, where Payne said TVR found great success there last year. The stage, vendors, parking and camping are all in one location now, he pointed out.
The parking on Main Street in Old Town will still be reserved for motorcycles during the TVR event, but this year Main Street won't be blocked off to vehicles.
Entertainment will now start earlier at Riverfront Park at 1 p.m. Last year there were three musicians playing in Old Town.
"Everyone likes the venues down at the park," Payne said. "Everything is there for them."
There are the food and merchandise vendors, tent and RV camping at Riverfront Park. There is also going be RV sites with hookups at the Verde Valley Fairgrounds and more camping at Dead Horse State Park.
"We still want the motorcyclists who are coming to the event to have an opportunity to go downtown and enjoy the atmosphere," he said. But there won't be any music, alcohol, food or merchandise vendors in Old Town this year.
"So there's no reason to block the street," even though they will lower the speed limit, he added.
The positive feedback from last year about using Riverfront Park was "unbelievable," said Payne.
Payne said these adjustments are bringing TVR closer to running into the "black" and having the event pay for itself. "We got very close last year," Payne said, hoping this is the year they can bring high-quality musical entertainment and run in the black for the first time.
The city also considers TRV a way to promote Cottonwood and bring back visitors. Many believe that is worth part of the city's investment.
"Everybody loved Kenny Wayne Shepherd and Blue Oyster Cult last year," he said
The city is paying $55,000 for the two acts combined for TVR this year, according to Hezekiah Allen, Cottonwood recreation service supervisor. A TRV ticket will cost $10 for both Friday and Saturday concerts from 1-10:30 pm.
Payne said he sees a lot of returning people from TRV and he himself moved here after attending an event in Cottonwood and loved the area.
In a report to the City Council last December, Allen reported that the attendance for TVR in 2016 was 8,505 guests (approximately) and 2017 – 10,308 guests (approximately), a 21-percent increase.
Allen also reported on the TVR Regional Economic Impact. According to their studies, they found an increase: ATM Report 2015 – $20,000, ATM Report 2016 - $25,600, ATM Report 2017 - $31,020.
"Every year we try to step up the entertainment," Payne said, "and that seems to draw more people." "The more people we draw, the more money we will make."