DeVore, Babcock, Streck lead Mingus delegation to state track championships
Originally Published: April 28, 2018 1:29 p.m.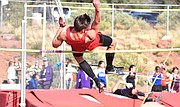 Mingus Union State Track and Field Championships Qualifiers
Girls
Hannah DeVore
100-meter dash – 13.03
200-meter dash — 27.12
100-meter hurdles – 15.60
300-meter hurdles – 46.50
Natalee Rogers
100-meter dash - 13.0
200-meter dash - 26.80
Meg Babcock
400-meters – 58.68
800-meters – 2:17.70
4X400 Relay (Hannah DeVore, Shelby Brenner, Natalee Rogers, Meg Babcock) – 4:15.54
4X800 Relay (Dani Galloway, Josey Valenzuela, Shelby
Brenner, Sadie Backus)—10:45.42
Boys
Dallin Gordon
800-meters – 2:03.60
Lucas Doerksen
800-meters – 2:04.50
Kendrew Streck
Shot Put – 53-11
Discus – 143-3
Jonathan Jung
High Jump – 6-2
Triple Jump – 41-0
Head Coach Molly Westcott's Mingus Union track and field team made the most of last week's "last chance" meets to earn provisional qualifying standards for two relay teams and two boys' 800-meter runners.
In all, Mingus has qualified seven of its girl athletes and four boys for the May 4 Division 3 State Track and Field Championships at Mesa Community College May 4-5.
Leading the charge for the Mingus girls is senior Hannah DeVore, who has qualified for state in four individual events and one relay. While meeting the state qualifying standards in both the 100- and 200-meter dash events this year, DeVore likely will pass on those events at the state meet in favor of the 100- and 300-meter hurdle events and the 4X400-meter relay.
In Division 3, DeVore owns the state's best times in both hurdle events. She has sped through the 100-meter hurdles in 15.60 seconds and also tops the state rankings in the 300 hurdles with a best time of 46.50 seconds.
Another key contender for top podium honors for the Mingus girls is junior Meg Babcock. Babcock finished second in the state championships last year as a sophomore at 800 meters and this year has the state's best time in the event at 2-minutes, 17-seconds. Also back this year in the girls' 800 is defending state champion Samantha Schadler, a junior from Rio Rico who was sidelined most of the season with an injury, but snuck into the state meet late last week in a Marana "last chance" meet with a 2:22 clocking. The girls 800 will be highly competitive this year. In addition to Babcock and Schadler, Shadow Mountain's Meagan Van Pelt, Cactus' Maggie Gibbs, Snowflake freshman Mignon Ritz and Coconino wildcard Woodlyn Smith have all run 2:22 or better this season.
Babcock also has opted to put her sprinter prowess to the test in the 400-meter dash at the state meet. She's only run the open 400 four times this year, but is ranked No. 2 in the state with a best time of 58.68 seconds.
Another strong podium contender for the Marauders is freshman flash Natalee Rogers. She has qualified for state in both the 100-meter dash (13.0 seconds) and the 200, where her 26.80-second best time ranked her in the No. 8 position in the state rankings.
Rogers, Babcock, DeVore and junior Shelby Brenner will team up in the girls 4X400 relay, where Mingus's best time this season of 4:15.54 ranks the Marauder quartet No. 5 among Division 3 schools.
Coach Westcott ran both DeVore and Babcock in the girls 4X800 relay Wednesday at the Desert Vista Last chance meet and Mingus snuck into the state meet with a 10:45 clocking. At state, Westcott will run freshmen Dani Galloway and Sadie Backus, sophomore Josey Valenzuela and junior Shelby Brenner in the relay.
For the Mingus boys, junior Kendrew Streck has established himself as one of the most dominant shot putters in Arizona this year. At last week's "last chance" meet in Sedona, Streck had four throws beyond the 50-foot barrier and has now extended the Mingus school record to a massive 53-feet, 11-inches. That throw puts Streck at the top of the Division 3 rankings in Arizona and is the No. 4 throw in Arizona this year all classes combined. Streck is also a podium threat in the discus, as his best throw of 143-feet, 3-inches ranks No. 3 in Division 3.
Senior multi-eventer Jonathan Jung returns to the state track meet this year in the high jump, and he's added a new event this year as well as he has also qualified in the triple jump. His season best in the high jump is 6-2, which ranks him among the top 10 jumpers in Arizona. His best in the triple jump is 41-feet, which ranks him among the top 20 in the state. Mingus sophomore Andrew Peterson has met the provisional qualifying standard in the high jump at 5-10; his chances of competing at state depend on the choices other schools make in entering their athletes.

Mingus junior Dallin Gordon and sophomore Lucas Doerksen made the most of their "last chance" opportunity last week to sneak in under the provisional standard of 2:05 in the 800-meter run. Gordon has a best time this year of 2:03.6; Doerksen has run the two-lapper in 2:04.5.
Sitting on the bubble of running in the state meet is the Mingus 4X800 team of Gordon, Doerksen, and sophomores Joseph Calhoun and Taylor Capite. The team has met the provisions standard with a best time of 8:41.16, but like Peterson they have to wait and see the final entries from around the state before they know if they will be able to compete at state.
More like this story
SUBMIT FEEDBACK
Click Below to: